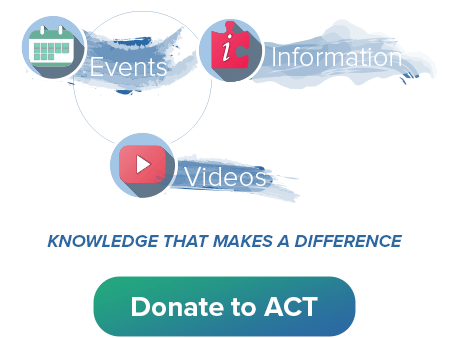 ACT is Canada's leading independent, not-for-profit specializing in evidence-informed resources for the autism and special needs community. In addition to developing our own videos, guides and live events, including web streaming, ACT provides an unrivaled information portal that responds to the diverse needs of our community across the lifespan, including the voice of adults, in multiple languages.
ACT is a registered charity. Our Charitable Tax Number is: #861691236RR0001.
ACT's Board and Staff are committed to the future
ACT was highly productive in 2020, in the face of the challenges presented by COVID-19 because of our existing expertise in providing practical resources online, with the support of our community partners. In April and May as part of ACT's emergency response, we presented seven free web streamed events featuring practical strategies. Thousands of viewers have accessed the free recordings on our website. 
In 2020, thanks to support from our donors, sponsors and the commitment of our presenters we were able to provide nearly 18,000 hours of training to over 2,500 registrants over twelve days of training – most of them free.  Live web streaming registrants were able to join ACT from their communities across BC and Canada allowing us to meet our goal of being a truly provincial and national resource. Traffic to the ACT website increased by 40% to over 516,000 views in 2020.
Our many online resources have been renewed and are serving an increasing number of users:
Creation of the COVID-19 Information Hub – 11,000 views since March
ACT's first step in March 2020 was the creation of the COVID-19 Resources Information Hub that ACT continues to develop, as we believe it will be necessary well into 2021. This was launched on March 16th; the resources on the hub have received over 11,000 views as of November 20, 2020.
Simultaneously with developing these online resources, ACT staff answered hundreds of calls per month in the first months of the crisis and have continued to provide reliable, evidence-based information via our website and our Facebook page as well as one-to-one support via email and telephone, working from our homes, without missing a day of service.
Why is ACT committed to continuing as an independent voice for the special needs community?
ACT's approach and the resources we have built over a decade, with the help of so many in the autism/special needs community, are not duplicated by government or by other agencies.  As a not-for-profit, led by a committed Board of Directors, ACT engages in the creative, cost-effective use of web-based technology, online information databases and social media, with the support of a network of experts who volunteer their time.
The COVID-19 crisis has demonstrated how vital ACT's online resources are. The 19,000 B.C. families seeking help for their children with ASD, autistic adults, families of children with other special needs, and the thousands of professionals who find ACT's resources invaluable, cannot rely solely on email and telephone support. They need access, at their convenience, to reliable online information resources, including training, provided by respected researchers and clinicians. Parents and self-advocates also need to source objective resources to help them advocate for their children and themselves when they are denied government services.
ACT can play a role to support families and professionals internationally
We also see ACT evolving to play an important role nationally and internationally – there is a vacuum of readily accessible best practice information and training world-wide, especially in languages other than English. For all of these reasons, ACT is committed to continuing to build our resources.  But to build a self-sustaining not-for-profit we have to diversify our income, which is why we are appealing to the families and professionals who make use of our services, as well as to foundations and private companies.
Reflecting back and thinking to the future
20 years ago, reliable information and training for families were painfully scarce. The landscape has been transformed, 'information' is everywhere, but with millions of hits for a Google search for "autism", many families are vulnerable to charlatans eager to take advantage of their confusion.  ACT provides a vital non-commercial alternative to a random Google search –  a portal to reputable online resources. What ACT provides cannot be duplicated by a government service. As a dynamic, community-based organization that respects families, self-advocates and professionals, ACT has earned the respect of the autism community. With your support we can continue this vital work and make it available to families across Canada and internationally.
Donate to become a 'Friend of ACT' 
Thanks to the support of the autism community, ACT has had the financial stability in 2020 to develop our information resources but we need to continue to build independent sources of funding if we are to continue our work long-term.  Please consider a monthly or one-time donation so that we can build a sustainable financial future for what is a unique information service.  For ACT's current fundraising priorities please visit our donations page.
Sponsorship
Sponsorship allows ACT to provide more training opportunities. For more information on how you or your organization could be involved in sponsoring ACT's online or live events, see Sponsorship.
Other ways to support ACT's Mission – Volunteer
ACT is a small organization with a large presence because of the support we receive from our volunteers, donors and sponsors. Collectively these efforts enrich our services immeasurably.
To find out more about the volunteers who currently serve ACT, see the Board Members & ACT Advisory Council listings. To explore volunteer opportunities at ACT see Volunteering.
Donate online
Recognizing our funders, donors and sponsors
ACT would like to thank organizations and individuals for their ongoing support, recognized on our funders, donors and sponsors page.
Other ways to donate
Should you wish to discuss your donation or sponsorship in detail, please contact ACT's Executive Director Deborah Pugh at 604-205-5467 or dpugh@actcommunity.ca.
Directly by credit card or cheque
ACT accepts donations through Visa or Mastercard by telephone or by cheque. Please make all donation cheques out to ACT-Autism Community Training.
2735 E Hastings St #204,
Vancouver, BC, V5K 1Z8
Telephone toll-free: 1-866-939-5188
Metro Vancouver: 604-205-5467
Fax: 604-205-5345
The United Way

Designate ACT to receive some or all of your United Way donation. Use our full official name, ACT- Autism Community Training Society, the city we are based in – Vancouver – and our charitable registration number – #861691236RR0001. Your contribution is counted towards the United Way's annual goal, and they in turn send the amount you specify to ACT.
Employer Charitable Funds
Workplace funds such as Team TELUS Charitable Giving and other workplace dollar match employee contributions. Please maximize your gift by tying it to your workplace program.