Thanks to our volunteers, Oceanside Fisheries, Steveston Harbour Authority, and everyone who came to the sale. We sold out all 20,000 pounds in under an hour!
If you'd like to be notified about the 2021 Herring Sale for Autism, please sign up below. You will only be sent emails about the Herring Sale. If you'd like to receive all ACT emails, including Herring Sale updates, please sign up here.
If you missed this sale, Fishermen Helping Kids with Cancer is having a Herring & Hake Sale on Saturday, January 25th (delayed from original date of January 18th due to weather).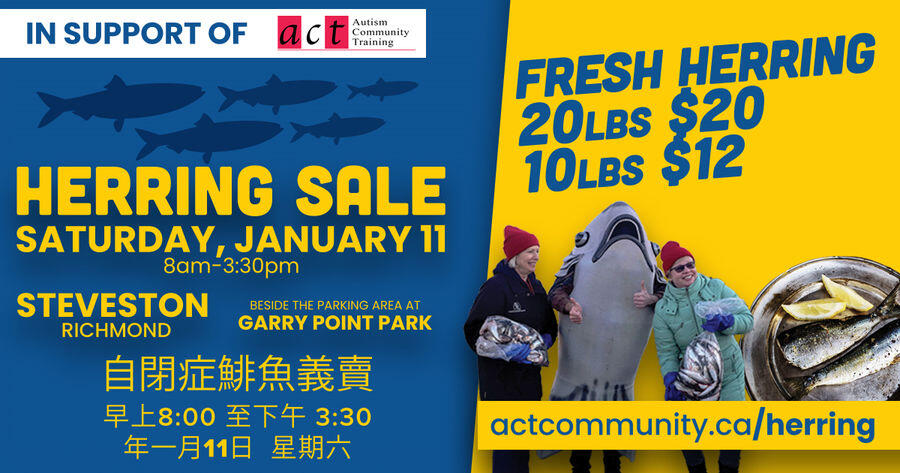 ---
To kick off fundraising in 2020, ACT – Autism Community Training will benefit from a 'Herring for Autism Sale', sponsored by Oceanside Fisheries, on Saturday, January 11 in Steveston, Richmond, the heart of the Lower Mainland's fishing industry. In January 2019 we sold over 20,000 pounds of herring!
Cost: The 20lb (9kg) bags are $20 each with all proceeds going to ACT. ACT volunteers will deliver the herring to the cars of eager customers. Payment in cash, credit, or debit.
Location: The dock is located next to Garry Point Park, within walking distance from Steveston Village at 3080 Moncton Street, Richmond (map)
Steveston's fishing industry is renowned for its generous support for those with special needs in B.C., but Oceanside Fisheries owners Mike Rekis and Anne McCaw have a special tie to the autism community: "Our daughter is a very able adult now, but we haven't forgotten how important ACT is to the success of children and adults with autism. We are supporting ACT because our family believes that the next generation of B.C. children deserves to have access to ACT's impartial information and training resources," explains Anne McCaw, a former ACT Board Member.
"ACT is heartened by the support we are receiving from Oceanside. We support all of B.C. with our free online information and training resources," says Deborah Pugh, ACT's Executive Director, "Every bag of herring sold will help us continue to provide families with vital information on how to help their children."
Subscribe to our email newsletter for event updates
Volunteer at the Herring Sale
We're looking for volunteers to help out at the 2020 Herring Sale! Meet sea lions and help raise money for free autism resources.
Email info@actcommunity.ca for details.
---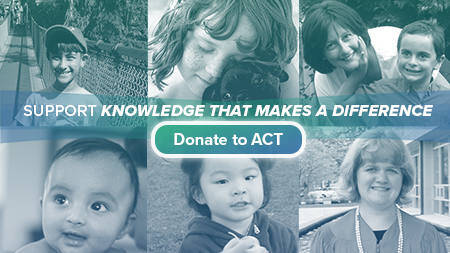 ACT – Autism Community Training is British Columbia's leading provider of community-based professional development and parent training in autism and special needs. Since 2010, ACT has provided nearly 20,000 registrants with 165,000 hours of live training featuring leading clinicians and researchers.
In 2019, ACT provided:
Nearly 22,000 hours of training to over 2,700 registrants featuring provincial and international experts – a 15% increase in hours of training and a 35% increase in registrants over 2018.
Seven evidence-based training opportunities across a range of topics.
Web streaming accessibility to allow over 2,100 registrants from all regions of BC and beyond to participate in ACT's training events. This is over triple the number of web streaming viewers ACT hosted in 2018.
Web stream training opportunities for 35 BC School Districts and 8 Independent Schools, in partnership with the Provincial Outreach Program for Autism and Related Disorders (POPARD) and Surrey School District.
Over $11,000 in bursaries in the form of reduced registration fees for low income registrants.
One of the highest rates of engagement of any Canadian Facebook page focused on the autism community, with over 6,600 followers. Featuring political developments, research updates and human interest stories. Follow ACT on Facebook.
In 2019, ACT's live event web streaming:
Trained nearly 2,200 registrants across seven web streamed events.
Reached audiences across B.C. and throughout Canada.
Provided professional development to both individuals and school teams of up to 100.
Trained over 1,500 School District employees through district-wide group web stream opportunities.
In 2019, Autism Videos @ ACT (AVA):

New videos in 2019:
Visit Autism Videos @ ACT for all new videos.
Herring Recipes

ACT is collecting herring recipes to share. Email your recipes to info@actcommunity.ca or try one of these:
The Health Benefits of Herring
According to the UK Guardian: " Herring is one of the very best food sources of vitamin D. Our bodies make this vitamin in sunlight, but in our climate, it's easy not to get enough. There seems to be more to vitamin D than strong teeth and bones. It's now thought that vitamin D deficiency might be a factor in many diseases, such as multiple sclerosis and diabetes.
Herring is loaded with EPA (eicosapentaenoic acid) and DHA (docosahexaenoic acid). These fatty acids help prevent heart disease and keep the brain functioning properly. They also seem to be effective in reducing inflammatory conditions, such as Crohn's disease and arthritis.
---
Photos from the 2019 sale
---