What is Web Streaming?
ACT's web streaming is LIVE online video broadcasts, in real time, of autism training events. We work with professional video production companies to bring you conferences and events from British Columbia to watch and participate from anywhere in the world. Our system is designed to be simple to use, with a built-in chat function that allows you to ask questions and get feedback from presenters on the issues you care about. No special equipment or software is necessary, all you need to watch is a computer, laptop, or tablet.
Technical requirements
The online streaming technology that we are using is the same platform as YouTube. If you can watch YouTube videos, you can watch our live online streaming! Some tips:
Be sure your speakers or headphones are on, and the volume at an appropriate level.
If you have a large number of 'tabs' open in your browser, this will use your computers memory and slow the connection.
Check that your browser is up to date.
If video is stuttering or jumpy, change the resolution by clicking on the 'gear' icon.
To go full screen, click on the 'box' icon in the lower right of the image.
If you are having trouble with Internet Explorer or Safari, try using the Google Chrome browser.
Participation
Live online streaming video includes a live chat function facilitated by ACT staff. You will be able to post questions that will be passed to the speaker at an appropriate time, and be able to text chat with other online attendees.
Access
Registered viewers will be emailed a link to the online streaming page prior to the event. It is critical that you provide your preferred email address.
---
Subscribe to ACT's Newsletter
Receive occasional updates from ACT on conference announcements and new online resources.
Comments from Previous Web Streaming Participants
Thank you for the enlightening experience, without this webinar opportunity I would not be able to attend.
Extremely informative workshop. Slides are incredibly detailed.
It has been edifying, energizing and interesting.
Thank you an excellent two days. Lots of great information to use in practice.
My third web streaming with ACT. Please offer all presentations with web streaming please! Thank you again!
Excellent! Thank you so much it was amazing and very inspiring both as EA and as parent of a challenging behavior child.
Thank you for a great 2 days, it was very interesting and insightful!
Saves on travel time and travel dollars too. Second time doing a web stream – may never do "live" again. It is awesome!!
So much cheaper than travel and hotel costs. I get to sleep in my own bed and eat my special food!
Web streaming worked really well and made it easy for me to attend.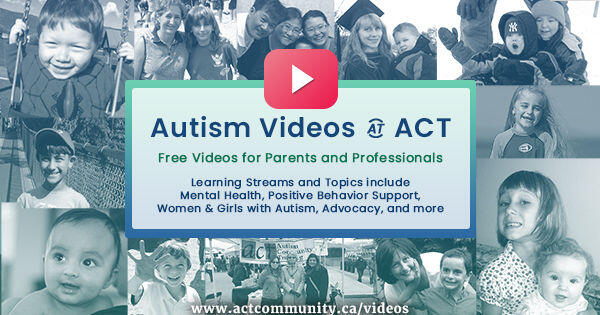 Start learning today on ACT's Autism Videos @ ACT
ACT Videos are presented by respected clinicians committed to sharing the latest in research and clinical experience. We now have 66 videos on diverse topics, including Toilet Training, Sleep, Mental Health, PBS, IEP's, Research, and much more.
Learning Streams
COVID-19: Resources for the Autism Community Mental Health and Autism Project Women and Girls with Autism Positive Behavior Support in School, Home and Community