Donate to ACT
Visit our donation page to find more ways to support ACT's work.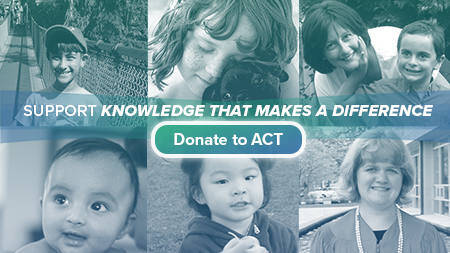 Inspired by our successes in 2019, ACT has ambitious plans for 2020 which are necessary to meet the tremendous need within the autism community for reliable, free, evidence-based information and training. ACT does not receive government funding and we are dependent on donations from parents and professionals in the autism community to achieve our goals. ACT's overheads are minimal – your donation will support the enrichment of resources available to the entire community.
ACT plans for 2020 – with your support
More great live training web streamed to all parts of B.C. – including a new workshop on how to advocate effectively to protect the rights of children with diverse needs.
Maintaining our bursary program to subsidize the cost of registration for those on low incomes.
More free online videos to add to the 60 now available – we are also planning to expand captioning of key videos to support the deaf & hard-of-hearing, and viewers learning English.
An expansion of the free community resources listed on the BC Community Resources Database – we have hired a new staff member to support the process of expanding the 1150 community resources it already contains.
Updating and expanding ACT's Autism Manual for B.C. and the Autism Information Database. These are powerful tools to educate and support families on finding qualified professionals.
ACT's Board of Directors and Staff thank our generous donors, collaborative partners and outstanding presenters for giving ACT the opportunity in 2019 to provide accessible, practical resources across the province, and around the world, that recognize the diverse needs of the autism community.