Recognizing Mental Health Disorders in Children and Youth with ASD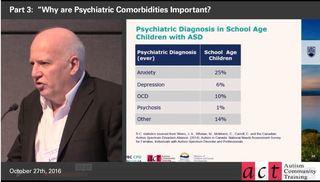 Webinar 1 focused on heightening awareness of the high prevalence of autism across the age span which can mask mental health concerns that require treatment from mental health professionals.
Treating Anxiety, Depression, and OCD in Children and Youth with ASD
Webinar 2 focused on specific mental health conditions that affect children with ASD and their treatment. It also includes discussion on screening, assessment and Cognitive Behavior Therapy.
OMHAP Advisory Committee
Content and structure for OMHAP is determined by an expert advisory committee, convened by ACT and chaired by Professor Anthony Bailey of the University of British Columbia.
Survey
ACT and UBC-CPD invite you to participate in a brief survey to help us gather more information on how to better support community professionals working with children and youth with autism for whom there are mental health concerns.