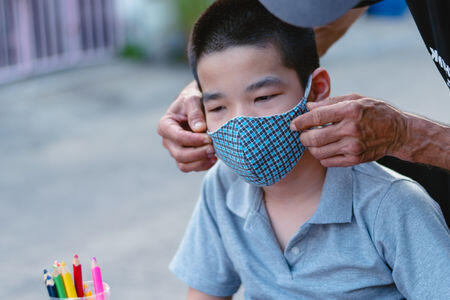 Parents of students with diverse needs, including autism, have been very concerned at the start of the new school year in British Columbia. The lack of concrete information from the Ministry of Education has contributed to the uncertainty. The pandemic has left many families confused as to how to best support their child's learning needs while keeping them and their families healthy. ACT has gathered resources below which we hope will be of assistance to families, and the professionals who support them. You can also keep up to date with the latest news reports by following ACT's Facebook page.
BC's Ministry of Education's Back to School Plan
Unfortunately, each school district is handling its response differently because BC's Ministry of Education has set few standards. One important provision from MOE's website is the statement that:
"School districts will contact all families in their school community to share their safety plan and confirm if they plan to have their child attend classes in September or require an other option. The Ministry has also given school districts the flexibility to find options that work for families. This includes remote options for students within their districts, as well as the tools school districts need to increase their existing programs to meet demand."
If your child's school is not communicating in a meaning way with you, you may advocate directly with the school district, whether their needs are best served by in-class or online instruction.
B.C.'s Back to School Plan includes information parents needs to know, such as: new health and safety requirements, supports for students with disabilities, diverse abilities, and additional needs and the "Back to School Plans" for all BC School Districts.
Note: If your child attends an Independent School, their Restart Plan is to be posted on the school website.
Knowing Your Rights and Advocacy Tips
ACT has been receiving calls from parents who have children with autism and other diverse needs and are confused about the BC Restart plan, the impact on their child's educational rights, and how to advocate for their children when their rights are infringed.
For detailed information on BC's Education System and how to advocate within it, see:
BCEdAccess Exclusion Tracker Survey 2020-2021
Since 2018, BCEDAccess has been collecting data on the exclusion of students with disabilities from schools in BC. The Exclusion Tracker is an annual survey for parents and guardians intended to document exclusions of students and can be filled out as frequently as neccesary.
For a direct link to this year's survey, click Exclusion Tracker 2020.
Need Support?
If you need support advocating for your child's education, contact:
Share your advocacy efforts with ACT
If you are a parent or guardian of a child with diverse needs returning to school, we invite you to share your experience by emailing [email protected]. With your permission we will post your comments, while protecting your privacy.
Great Back to School Resources
Search ACT's Autism Information Database (AID)
ACT's Autism Information Database (AID) contains over 1,400 curated resources from around the world on topics related to autism and other neurological conditions, including education and advocacy. We encourage caregivers seeking resources to visit the AID, but here are a few sample resources that may be helpful this school year:
Share your resources
Have you found or developed great resources? Share this with ACT at [email protected]