An Appeal to the Autism Community to Fund New Initiatives
If you appreciate ACT's work, and are able to donate, your financial support will allow us to respond to the many new demands on our resources. See ACT's latest Annual Report for details of the range of support we provide. As a federally registered not-for-profit society ACT can provide tax receipts for donations over $10. ACT's Charitable Tax Number is #861691236RR0001.
Here are our current projects:
ACT's Bursary Fund
Over the last several years, as event costs have escalated, it has been increasingly difficult to meet all the bursary requests that we receive. In 2013, we provided over $12,500 in bursaries.
"Autism for Kids" – Autism Awareness in Languages Other than English
Our goal is to raise $100,000 to allow us to translate and distribute "Autism for Kids" to schools including: Punjabi, Korean, Farsi, Chinese and Spanish as well as provide better online resources in translation.
Sponsorship for ACT's Online Video Library
ACT's Online Video Library is now free to all users. ACT is planning to upgrade the technology we use to provide these to parents and professionals. We also seek sponsors for new online resource development.
Sponsorship for events in under-served communities in B.C.
ACT would like to bring more events to communities across the province. Travel costs and lower registrations outside the Lower Mainland make this difficult. Financial sponsorship helps cover these costs.
Focus on Transition to Adulthood
We are experiencing an explosion in the number of individuals with ASD struggling to make the transition to adulthood. The issues are numerous, from mental health to vocational services – with additional funding we could increase the information and support.
How can I Donate to ACT?
Please make all donation cheques out to ACT-Autism Community Training.  If you would like your donation to go to a specific fund please include a note stating which fund you are donating to. Should you wish to discuss your donation or sponsorship in detail, please contact ACT's Executive Director Deborah Pugh at 604-205-5467 or dpugh@actcommunity.ca.
Directly by credit card or cheque
ACT accepts donations through Visa or Mastercard by telephone or by cheque.
Suite 150 – 2250 Boundary Road,
Burnaby, BC, Canada, V5M 3Z3
Telephone toll-free: 1-866-939-5188
Metro Vancouver: 604-205-5467
Fax: 604-205-5345
The United Way
You can designate ACT to receive some or all of your United Way donation. Use our full official name, ACT- Autism Community Training Society, the city we are based in – Burnaby – and our charitable registration number – #861691236RR0001. Your contribution is counted towards the United Way's annual goal, and they in turn send the amount you specify toACT.
Employer Charitable Funds
We are grateful to workplace funds such as Team TELUS Charitable Giving and other workplace funds that dollar match employee contributions. Please maximize your gift by tying it to your workplace program.
CanadaHelps.org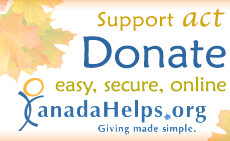 ACT has joined CanadaHelps.org, a Canadian registered charity that gives us an affordable and efficient way to receive online donations.
CanadaHelps issues tax receipts immediately and promptly forwards your donation to the charity you chose, less a 3% fee to cover their costs. For ACT, this is a savings in staff time and transaction fees, and for you (the donor) it can be a good way to centralize some or all of your giving–you can direct your donation to the charities you support while reducing the number of receipts you have to keep track of. For further information about CanadaHelps, including their privacy policy, visit the CanadaHelps.org FAQ.
Recognizing our Funders, Donors & Sponsors
ACT would like to thank the following organizations for their ongoing support:
The British Columbia Ministry for Children and Family Development provides core funding for ACT's information and support work, as well as the management of the Registry of Autism Service Providers (RASP).
Simon Fraser University's Department of Psychology supports ACT's live and online training by providing their facilities to ACT at a reduced cost, including the professional production of our online videos.
2014 Donations and Sponsorship as of May 30, 2014
Each year ACT's events are supported by a variety of organizations, allowing us to present around the province, and keep our registration costs as low as possible. ACT does not receive government support for our training – they are largely self-supporting through registration fees and sponsorship. Many of the events detailed below would not have happened without their financial support. In addition, special project funding allow us to do innovative work that is not possible with the funding normally available to us.
$10,000 – $25, 000
Autism Speaks Canada – Getting the Word Out on Employment for Adults with ASD project
$1,000 – $5,000
BC Association of Speech Language Pathologists and Audiologists (BC-CASLPA) – Sponsorship for Teaching Social Thinking Through Stories and Play (Kelowna)
BC Government and Service Employees' Union – Sponsorship for Teaching Social Thinking Through Stories and Play (Kelowna)
Canucks Autism Network – Sponsorship for Ready, Set, Coach (Vancouver)
Dwyer Tax Lawyers – Sponsorship for Navigating Puberty and Adolescence (Sidney)
$500- $1,000
Nicole Sapriken & Friends of Autism Ride for Success
$100 – $500
Individual donations via United Way Ottawa, United Way of Calgary and the United Way of the Lower Mainland
Individual donation via Canada Helps
2013 Donations and Sponsorship 
$10,000 – $25, 000
Autism Speaks Canada – Sponsorship for the 2013 Focus on Research conference (Vancouver)
$5,000 – $10,000
The Edith Lando Charitable Foundation – Sponsorship for the Sibshop Training event (Vancouver)
$1,000 – $5,000
Dwyer Tax Lawyers – Sponsorship for Social Thinking Meets RTI and PBS (Sidney)
NeuroDevNet – Sponsorship for videotaping of Focus on Research 2013
Tony Yue
$500 – $1,000
Mackenzie Financial (Ting Ying Zhong)

Sinneave Family Foundation  –

Focus on Research 2013
Telus Corporation
Vivian Walker "in memory of Richard"
$100 – $500
Jill Bert
The Coast Capri Hotel
Deborah Pugh
Amy Severson
Dr. Lee Tidmarsh
Individual donation via Canada Helps (3)
Individual donation via United Way of Ottawa
Individual donation via United Way of Calgary (2)
Under $100
Sarah Alvarez
Joanne Flowerdew
The Hydrecs Fund
Sharon Randhawa
Michael Alvin Reimer
Individual donation United Way of Greater Victoria (2)
Individual donation United Way of the Lower Mainland
Individual donation via Canada Helps (2)
Individual donation via United Way of Calgary (3)
2012 Donors
Autism Speaks Canada
All those who donated so generously in memory of Anne Brown, mother of Jackie Brown.
Arlene Gallagher
Romy Chan
Saint Margaret of Scotland Anglican Church
United Way of Calgary – Donor Choice Program
Team Telus Cares
Blair Dwyer
Dave Singh
Mackenzie Financial (on behalf of T. Ying Zhong, a long-time ACT volunteer and Mackenzie Financial employee)
The many donors who gave under $100 in 2012.
2011 Donors
All those who donated Memorial gifts in honour of Hugo Chan.
All those who donated along the way to Cheryl and Leslie's Triumph Tiger 800XC Adventure to Alaska and to Cheryl and Leslie for making the journey
Team Telus Cares
The City of Burnaby
Project Equal
Smart Centres Management\
Anonymous (in honour of Pat Mirenda and Jackie Brown)
The many donors who gave under $100 in 2011