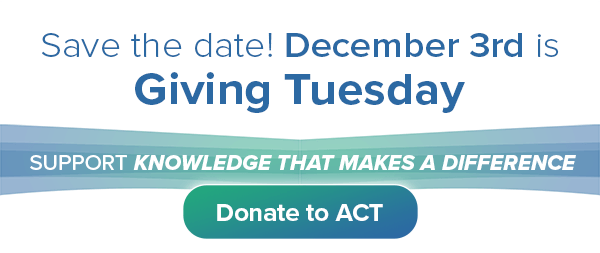 ACT is preparing to launch our annual Giving Tuesday Fundraising Campaign next Tuesday, but first we would like to give thanks to the support that has been extended to ACT since our successful fundraising campaign a year ago. The generosity of members of the autism community, and the many organizations that contribute to it, allowed ACT to provide an enriched program in 2019, rather than shutting down programs.
In 2019, your donations supported:
The creation of 22 new free videos. Autism Videos @ ACT now has 60 autism training videos, with new comprehensive learning streams on Women & Girls with Autism and Positive Behavior Support. In the past year, 25,000 users watched 4,600 hours of ACT's online videos.
Seven live events provided training to over 2,700 registrants across B.C. and Canada, and allowed us to give over $11,000 in bursaries.
Access to high-quality autism information for thousands of families across Canada to ACT's Autism Information Database, BC Community Resources, and the Autism Manual for BC.
ACT's Board and Staff recognize our generous donors, collaborative partners and outstanding presenters for giving ACT the opportunity to provide accessible, practical resources that acknowledge the diversity of the autism community across the province and around the world.
Visit ACT's Accomplishments in 2019 to find out more about our work.