ACT's end of year fundraising campaign was a success, thanks to donations from dozens of parents, grandparents, siblings, as well as teachers, SLP's, OT's, Behavior Analysts and companies, from across Canada. We thank all our donors and sponsors for their generous support in 2018.
We set ourselves the goal of raising $100,000 by December 25, and we achieved 90% of our goal – thanks to $45,000 in matching funds from the Dwyer-Ross family which was an incredible boost to this campaign. Donations continued to come in – they are welcomed year round! We are also encouraged by many positive messages including this one: "Thank you for all that you have done and everything that you do! The existence of ACT has made a great impact in the well-being of our family living with autism."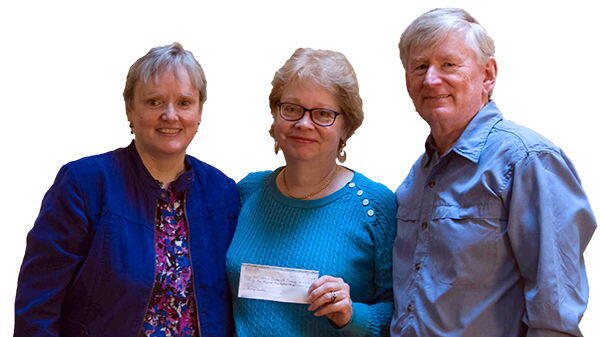 Mary Ellen Ross and Blair Dwyer presenting their donation to
Deborah Pugh, ACT's Executive Director
Special thanks to the Sisters of Saint Ann, who donated $10,000 to Autism Videos @ ACT.
Thanks to the support of the autism community, ACT will be able to maintain our extensive online information and training resources in 2019. We are still searching for funding to allow us to continue with a full live web streamed conference schedule as the provincial government is no longer funding ACT.
All donors to ACT can be assured that when you donate your money or time to ACT, we will use the funding frugally to promote practical, evidence-based resources that support individuals with autism and their families. We will continue to keep our overheads to a minimum and focus on sustaining and developing our resources which we have been providing freely for more than a decade.
Best wishes for 2019 from ACT's Board of Directors and Staff.
Deborah Pugh
Executive Director