The Staff and Board of ACT – Autism Community Training send out a big thank you to everyone who made the 2020 Herring for Autism Sale a resounding success – helping us to raise $20,000 to support ACT's free evidence-based information services for families and community professionals across B.C. and around the world.
First and foremost, Kevin Smith, skipper of the Western Investor, based in Prince Rupert. Despite the aggressive sealions and the harsh weather last week, he managed to catch 20,000 lbs of herring from the Salish Sea before making a dash for Steveston as the weather deteriorated.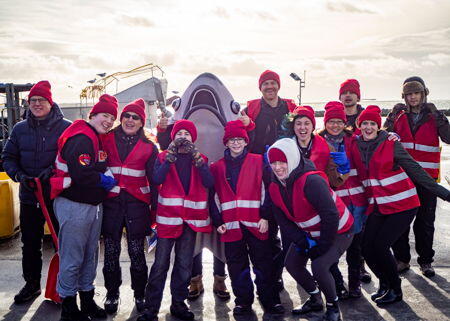 From Oceanside Fisheries, owners Mike Rekis and Anne McCaw, and all the intrepid herring unloaders and baggers – it was no small job to bag herring in the icy rain and snow last Friday: John Kitchen, Doug Shinde, Darrel Hills, Bob Macdonald, Len Fanning, Ken Johnson, Ken Yoshikawa, Rob Clarke, Paul Bevindick, Jim Cahill, Tim Edgington.

Vital to our successful day were our volunteers who hoisted the 20 & 10 pound bags and wheelbarrowed the big orders out to the waiting vehicles, as well as translating, counting money and many other tasks: Anne Millerd, Nicole Provost, Brent Shirley, Paul Burns and his sons Nathan, Matthew, Dade and Jacob, Paige and Hannah Sharpe, Brennan Kovacevich, Karim Alrawi, Karen Wong, Abbey Rekis, Jenny Zhao and her daughter.

Special appreciation for the support we received from Leader Fishing Ltd and owner Erling Olsen, and the sponsorship from the General Manager of the Steveston Harbour Authority – Jamie Gusto. As well the media outlets, including Global TV, Stingray Radio and Fairchild Media who helped get the word out!

Last, but not least, we appreciate all of our customers and donors who made the day a very warm one for ACT despite the very cold temperatures. We are sorry that we ran out of fish (it was just too dangerous for Kevin to fill the hold) but we are hoping for better weather next year and more of the fresh and healthy herring!
Join our Herring for Autism Email List
We urge all herring connoisseurs to join our special Herring Email List and we will give you plenty of notice for the 2021 Herring Sale with how to pre-order online so that you can avoid the line-ups and be sure of your order!