Upcoming Events

Managing the Anxious Symptoms of Children and Adolescents with ASD: Practical Strategies
Thursday & Friday, September 27 & 28
Vancouver 
Judy Reaven, PhD, Associate Professor of Psychiatry and Pediatrics, University of Colorado
This two-day training is aimed at professionals who have an intermediate/advanced knowledge of CBT and are looking for an evidence-based, manualized program on adapted CBT for children and adolescents with ASD to address the high levels of anxiety in this population. Research has shown that children and teens with ASD and anxiety demonstrate significant reductions in anxiety following participation in modified Cognitive Behavior Therapy (CBT) interventions, allowing many to function better at home, school and in the community.
Facing Your Fears (FYF) is a group CBT intervention for managing anxiety in youth with ASD. Throughout the training, participants will learn about FYF, identify core components of the clinic based FYF program, learn how to modify FYF for teens with ASD and intellectual disabilities, as well as strategies for delivering FYF in school settings. Video examples and interactive small group activities will be provided throughout this training, provided by Dr. Judy Reaven, one of the developers of the FYF approach. Dr. Reaven is an experienced clinician and researcher and is a dynamic presenter.
View Details & Registration
---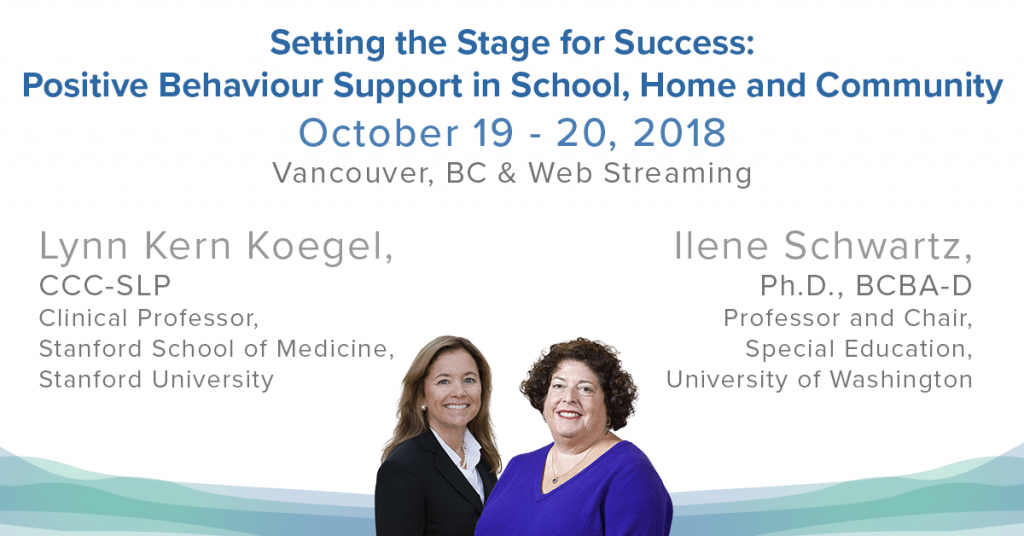 View Details & Registration
---
ACT's Education Resources
Back-to-School Resources
Along with the resources on ACT's School-Age Children with Autism page, you can find hundreds of resources on our B.C. Community Resources search and the Autism Information Database.
Enter your city or postal code to narrow down service providers, recreational activities, employment and training opportunities, and community organizations near you.
Find articles, guides, videos, and research on executive functioning skills, anxiety, bullying, and much more.
---
Special Needs Community Events
To see what is happening around the province, and to submit your organization's events, visit Special Needs Community Events

September Events:
Social Sprouts 2 (Social Thinking)
September 10, Surrey
Executive Functioning for Preteens
September 11, Surrey
Connect with PEERS(r) for Young Adults (19-30)
September 11, Burnaby
AutismBC Family Support Group
September 12, Prince George Social Sprouts (Social Thinking)
September 15, Surrey
Art and Social for Girls
September 15, Surrey
Incredible Years – Autism Spectrum and Language Delays Parenting Program
September 20 – December 14, North Vancouver
The Curious Incident of the Dog in the Night-Time: Relaxed Performance
September 30, Vancouver
Youth & Young Adult Program: Games & Activities
October 2, Nanaimo – Registration deadline: September 21
---
Ticket Giveaway!
The Curious Incident of the Dog in the Night-Time
Relaxed Performance – September 30 at 7 PM
Stanley Industrial Alliance Stage, Vancouver

Enter now for a chance to win 1 set of 2 tickets to see a relaxed performance of The Curious Incident of the Dog in the Night-Time, a Tony Award-winning play adapted from the novel by Mark Hadden, about a teenager with high-functioning autism seeking to solve the murder of a neighbour's dog.
Visit the Arts Club website for more information on this play.
This relaxed performance is an inclusive, modified theatre experience designed to welcome people who may find it difficult to follow the usual conventions of traditional theatre.
How to win tickets: Email info@actcommunity.ca with the subject "The Curious Incident of the Dog in the Night-Time Give-Away" before Friday, September 14 at 9:00am.
ACT will randomly select the winning entry to receive a free set of 2 tickets to see the play and will email ticket winners with instructions for pick-up at the theatre box-office.
Click the button below to send your email and be entered into the ticket giveaway.
---
Autism in the News
Get the latest on ACT's Facebook page
Employment and Social Development Canada (ESDC) has released a new simplified Canada Pension Plan Disability (CPP-D) application package. Find out more:
New form at Service Canada | Disability Alliance BC CPP-D Guides
TRACKING EXCLUSION: BCEdAccess' Exclusion* Incident Report Form – BCEdAccess
Resources for autistic students and students on the spectrum transitioning from high school to college – Stairway to Stem
How the Ontario Disability Support Program makes falling in love a challenging proposition – TVO
Treatment to remove metals from children with autism unproven and risky, but no clear regulations – CBC News
'I'll break the barriers': New ad campaign tries to end stigma plaguing youth with disabilities – CBC News
Autism Ups Risk for Depression in Early Adulthood – MedPage Today
For people with developmental disabilities, a job is more than a paycheque – it says 'I'm valuable' – The Globe and Mail
The extra layer of back-to-school anxiety when your child has special needs – The Washington Post
'Atypical' Team on Bringing 'More Voices From the Autism Community' in Season 2 – Variety
Gavin Rose was diagnosed with autism three years ago. Now, he's competing for a world bull riding title – The Star
Changemaker: Bellevue man living with autism wants to help others understand it – Q13 FOX News
The relief, and heartbreak, of watching my autistic son becoming more socially aware – The Washington Post