ACT Seeking a New Executive Director
Deborah Pugh is stepping down as Executive Director in the New Year after 12 years in a leadership position at ACT. The Board of Directors is seeking qualified applicants to lead ACT into a new phase of its development as B.C.'s premier source of information and support for individuals with ASD, their families, and the professionals who serve them. For details see www.actcommunity.ca/job-posting-executive-director-for-act/
Have Your Say: Federal Accessibility Legislation
The Federal Government is consulting with Canadians on new accessibility legislation. Consultations will be held in Victoria on November 7th and Vancouver on November 26th – see below for opportunities to participate online or face to face. Some of the questions they will be asking are:
What are the main barriers to accessibility that Canadians with disabilities face?
What would it take to fix those barriers?
How can we change attitudes in Canada to better include and respect people with disabilities?
For more details: www.esdc.gc.ca/en/consultations/disability/legislation/index.page#h2.325
Skill Development for Young Adults with Autism


The Canucks Autism Network (CAN) is offering the CommunityWorks Canada® program, for individuals with autism, ages 15-21, who wish to volunteer alongside typical peers in a variety of community settings, developing work, communication and social skills. For more information, visit the CommunityWorks Canada® program page
EmploymentWorks Canada (EWC) is looking for participants, diagnosed with ASD , between 18 and 29 years, who are motivated to learn from different businesses in the Lower Mainland to develop employment-based skills; for example, social, communication and professionalism in the workplace. Contact Brooke Straith, EWC Program Coordinator, brooke@pacificautismfamily or 604-700-8614.
ACT Event: iPads in Autism Intervention


Faster than a Speeding Bullet: iPads in Autism Intervention – November 26th, 2016 – Vancouver, BC. Presented by: Brenda Fossett, Ph.D., BCBA-D
This workshop will review a number of skill areas in which the iPad can be a useful instructional tool and/or an aid for daily living. Relevant apps will be discussed and demonstrated. While apps relevant to all ages will be featured, this workshop is for children and adults with a variety of special needs who require adapted educational, communication or life skills supports.
Mayday Club Youth Choir Performance
The Mayday Club Youth Choir had their first public performance on October 23rd at the Autism Speaks walk. Congratulations on your performance! See the choir in action: www.youtube.com/watch?v=qunoXUUhrJg
For upcoming performances, see the Mayday Club Youth Choir Facebook page: www.facebook.com/MaydayClubYouthChoir/
RASP Updates: new Behavior Consultants, SLP's, PT's and OT's


Four new RASP professionals have been added or had their status updated between September 17th and October 26th. As of October 26 there were 654 professionals on the Registry of Autism Service Providers. See who is new in your community at www.actcommunity.ca/rasp/search/.
Behavior Consultants (Category A – Non-Supervised)
Tina Lin – Burnaby, Delta, Ladner, North Vancouver, Richmond, Surrey, Tsawwassen, Vancouver, West Vancouver, White Rock
Speech-Language Pathologists
Susan Wilson – Serves: Burnaby, Vancouver
Occupational Therapists
Hanna Nagtegaal – Serves: Campbell River, Comox Valley, Denman Island, Hornby Island, Parksville
Physical Therapists
Deborah Humphries: – Serves: Dawson Creek
RASP RESOURCES
Questions? Contact an ACT Information Officer for one to one support in English, Cantonese, Mandarin or Punjabi.
Mental Health Resources from the Autism Information Database (AID)
In recognition that individuals with ASD have significantly higher rates of mental health conditions like anxiety and depression, ACT's Information Officers continue to gather relevant resources for the ACT Information Database.
Information about ASD and mental health conditions, including ADHD, anxiety, OCD and depression. actcommunity.ca/resource/2922
Summary of a research study that examines the types of mental health conditions that often affect children and youth with ASD. actcommunity.ca/resource/1998
Common co-occurring disorders for individuals with ASD, including diagnostic challenges and developing a treatment plan. actcommunity.ca/resource/1945
In this ACT online video, Dr. Vikram Dua discusses his Autism Comorbidity Algorithm to frame and guide clinical and diagnostic assessment and treatment decisions though a developmental lens. actcommunity.ca/resource/528/
For more information and community resources, search ACT's Autism Information Database: www.actcommunity.ca/aid. We welcome your suggestions for information or community resources for the AID – contact info@actcommunity.ca.
Survey of Early Childhood Intervention Services Closes Nov 1st
The Family Support Institute, BC Association for Child Development and Intervention (BCACDI) and Inclusion BC have embarked on an information gathering project to determine the key concerns of parents of children and youth with special needs in B.C. Access the survey here: http://fluidsurveys.com/s/FamilyFeedbackServicesforCYSN/ before November 1st, 2016.
Seeking Volunteers on the Impact of Autism
As part of a 4th year / graduate course offered at UBC, the instructor is looking for volunteers with autism in the Vancouver area who would be willing to be interviewed by students in medical anthropology about the impact of autism on themselves and their families. Download this letter for details.
Community Events Across British Columbia

Visit the ACT Community Events page (www.actcommunity.ca/education/community-events) for upcoming social groups, BI training, and conferences. Submit your community events for inclusion in this provincial resource listing.
Autism in the News
Alternative treatments in the news
Staff News
ACT's E.D. awarded Distinguished Service Award by BCASLPA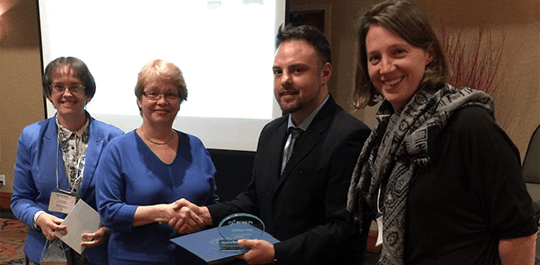 Deborah Pugh receiving award from Nathan Hoffart, Julia Hodder (left) and Kate Chase from the BC Association of Speech Language Pathologists and Audiologists.
On October 21, Deborah Pugh, ACT's Executive Director, was awarded the 2016 BCASLPA Distinguished Service Award for individuals who are not speech‐language pathologists or audiologists but who have made outstanding contributions to the professions and/or the communities they serve, in recognition for her "passion and advocacy for children and adults living with ASD."