This panel was considered a highlight of our 2018 conference. This is your opportunity to learn from the fascinating insights provided by these four remarkable autistic women. Introduced and moderated by Dr. Rene Jamison, University of Kansas Medical Center.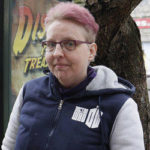 Iris Gray was diagnosed with ASD in 2005. She organizes two peer support groups for autistic adults in Victoria. One of them is specifically for autistic women. Ms Gray works as a freelance transcriber and editor.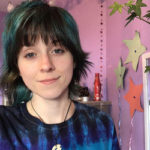 Nicole Provost is a 23 year old physics student from Abbotsford BC and is the founder of the 'Mayday Club Youth Choir' – most members are teens on the autism spectrum.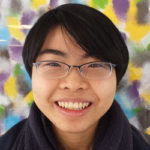 Vivian Ly is an autistic self-advocate and the Executive Director of Canadian Autistics United, a grassroots disability rights organization that works to improve the lives of autistic Canadians through self-advocacy. Vivian is a strong proponent of "Nothing about us, without us."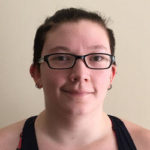 Ryann Calkins grew up on a cattle ranch in central Alberta, moving to BC in her mid teens. She has worked as a lifeguard and swimming instructor for six years. She is in the process of finishing her degree at UBC Okanagan studying languages.
---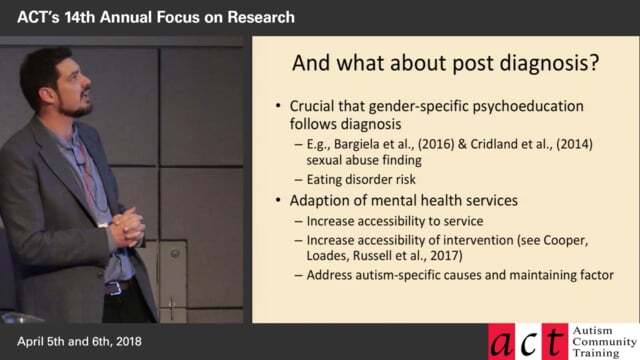 In the second part of his keynote, Dr. Mandy provides a developmental perspective of the characteristics of autism in females. In addition to examining the widespread practice by women and girls of "social camouflaging" their autism, Dr. Mandy discusses their mental health needs – with a focus on eating disorders. The presentation ends with a discussion of how women and girls can be better supported, including a question and answer period.
---

Thanks to funding from the Centre for Interdisciplinary Research and Collaboration (CIRCA) at the University of British Columbia, ACT is providing an edited version of the Women and Girls Conference held in April 2018. More presentations will be available over the next month.
---
ACT lists workshops and conferences held in B.C. related to autism and other special needs held by community organizations and agencies. Have an event you'd like to submit for your organization? Submit here.
Upcoming BC Community Events
February Events
Monday, February 4 – Thursday, May 30, 7:00 pm – 8:30 pm
Abbotsford
Tuesday, February 5, 2:30 pm – 4:00 pm
Vancouver
Friday, February 8 – Saturday, February 9
Richmond
Wednesday, February 13
Prince George
Thursday, February 14 – Friday, May 31
Vancouver
Saturday, February 16 – Sunday, February 17
UBC, Vancouver
A special opportunity for Mandarin-speaking families at a UBC-sponsored workshop.
Tuesday, February 26
Vancouver
---
ACT's Research Listing
ACT is committed to encourage collaboration between legitimate researchers, autistic individuals and their families. You can find many other projects listed on ACT's Participating in Autism Research page.
Researchers are invited to submit research projects using this online form.
Sound Sensitivity Study
Are you a parent to an adolescent (aged 13-18 years) on the autism spectrum? Does your child experience issues with sound sensitivity that impacts daily life? SFU Researchers (Dr. Elina Birmingham, Dr. Grace Iarocci) want to hear from you! Recruitment is ongoing for individuals with ASD aged 13-18 years and their parents.
If you are interested in participating, please contact research coordinator Kari Gustafson, kari_gustafson@sfu.ca.
---
Autism in the News
Get the latest on ACT's Facebook page
Special needs students routinely excluded from school activities – Delta Optimist
Special needs funding at risk — Coquitlam teachers – TriCity News
"But, you don't seem autistic!" – McGill Tribune
These moms are building a forever home for their adult autistic children – Washington Post
Florida School Staffers Charged With Using Dark Room, Whistle to Torment Autistic Kids – Daily Beast
An Open Letter To My Autistic Son's Teacher – Huffpost
Eric Lider: Coaching kids with special needs – KATU2
Maine woman is helping to change autism one jar of salsa at a time – NBC News Center Maine
Why We Need Schools That Better Support Kids on the Autism Spectrum – Yahoo News
Autism Parent, Times Two: When More than One Child in the Family has ASD – IAN
You Can't "Culturally Appropriate" a Weighted Blanket – Slate
Early risers are not necessarily healthier, wealthier or wiser – CBC Radio