ACT's 2018 Focus on Research Conference provided two days of fascinating insights into the complexities of identifying and treating women and girls with autism. Researchers are increasingly recognizing that autism affects women and girls differently than males. Delays in diagnosis are common, reducing access to services, with implications for long-term mental health and employment prospects.

Thanks to funding from the Centre for Interdisciplinary Research and Collaboration (CIRCA) at the University of British Columbia, ACT is able to provide an edited version of the entire conference, which will be made available over the coming weeks.
---
Improving the Recognition of Women and Girls on the Autism Spectrum

The first presentation in the series is by Dr. William Mandy, Senior Lecturer in Clinical Psychology at University College London. He shares his research into the characteristics of autism in females, the implications for diagnosis, and ways of improving recognition, with a focus on practical ways of improving clinical and educational practice.
Drawing on his extensive clinical experience, Dr. Mandy offers a compassionate perspective on the barriers faced by women and girls when they are not offered the self-awareness and family understanding that can accompanies a diagnosis. Also covered are myths about autism; new research into gender ratios and the impact of "camouflaging" on diagnosis of women and girls.
---
Upcoming Videos – February
ACT will be releasing the entire 2018 Focus on Research Conference on Women and Girls with Autism over the next several weeks. Stay updated on their release through these emails or visit Autism Videos at ACT.
Understanding the Needs of Girls and Women on the Autism Spectrum
Dr. William Mandy, University College London, UK
The Experience of Women with ASD – A Panel Presentation by Women with ASD
Introduced and moderated by Rene Jamison, University of Kansas, USA
Special Challenges Faced by Mothers with ASD
Introduced and moderated by Dr. Grace Iarocci, Simon Fraser University
Girls Night Out: Lessons learned from a unique intervention for girls with ASD
Presented by Dr. Rene Jamison and Dr. Jessica Oeth Schuttler
University of Kansas
Sex Matters: The secondary impact of low prevalence for girls and women with autism
Presented by Dr. Rene Jamison and Dr. Jessica Oeth Schuttler
University of Kansas
Setting Priorities for Future Research
Panel presentation introduced and moderated by Dr. Anthony Bailey, University of British Columbia
Visit the Women and Girls with Autism video release page
---

ACT lists workshops and conferences held in B.C. related to autism and other special needs held by community organizations and agencies. Have an event you'd like to submit for your organization? Submit here.
Upcoming BC Community Events
Featured Events
Culturally Responsive Group-Based Positive Behaviour Support Workshop for Chinese Families of Children with ASD
Saturday, February 16 – Sunday, February 17 – UBC, Vancouver
A special opportunity for Mandarin-speaking families at a UBC-sponsored workshop.
Behaviour Interventionist Training Workshop
Saturday & Sunday, January 19 – 20 – Vancouver and Victoria
Real Talk Tough Cookies Event
Thursday, January 24 – Burnaby
---
Over $20,000 raised at the
ACT Herring Sale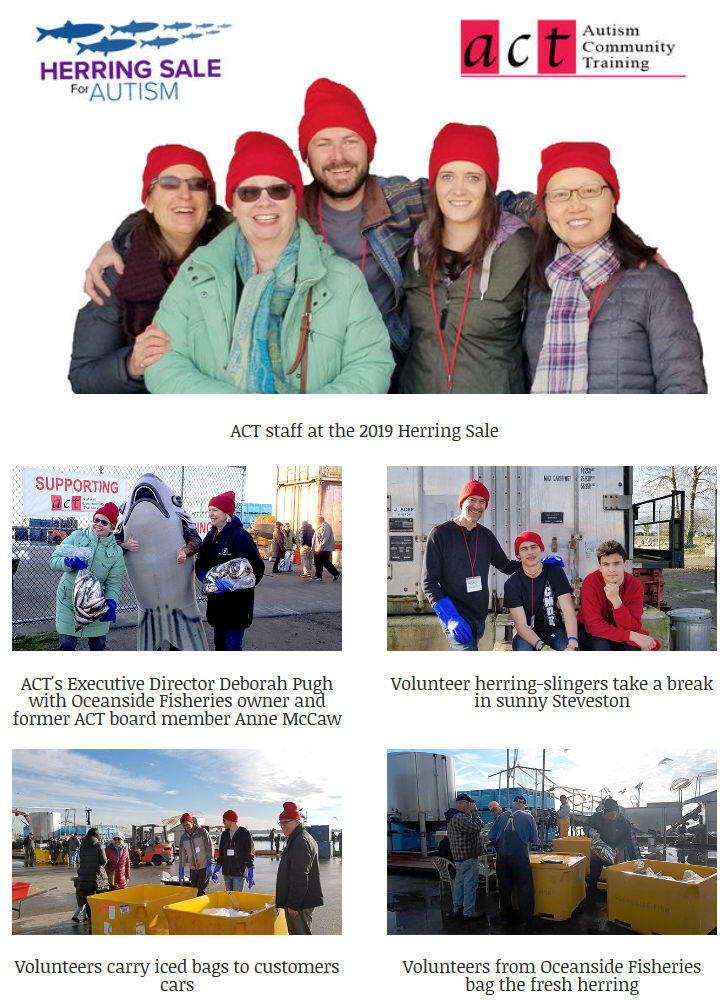 The weather was brilliant, the fish fresh and the volunteers friendly on January 12th at the 2nd Annual Herring Sale for Autism, held in Steveston. A steady stream of customers were entertained by the antics of a giant fish mascot and some very boisterous (real) sea lions!
Many thanks to the generosity of the owners of Oceanside Fisheries, Anne McCaw and Mike Rekis, who donated over 20,000 pounds of herring – raising $20,000 to support ACT's work. Particular thanks to all the volunteers who so graciously transported 20 lb bags of icy herring to the waiting cars of our customers!
---
Autism in the News
Get the latest on ACT's Facebook page
8 best books about autism – Independent
Twenty-One Years After Her Autism Diagnosis, Haley Moss Is Admitted to the Florida Bar – Daily Business Review
Autism, giftedness and using 'specialness' as a force for good – The Record
Victoria school district tracking how often special needs students are asked to miss class – CBC News
Depressed and Then Diagnosed With Autism, Greta Thunberg Explains Why Hope Cannot Save Planet But Bold Climate Action Still Can – Common Dreams
You can't say inclusive education doesn't work. We haven't even begun to try – Globe and Mail
Autism didn't stop Michael from writing a book, even though he can't read or write – The Standard
A viral video of a teacher abusing an autistic boy highlights how society misunderstands autism – Salon
Teen with autism overcomes job hurdles by cornering market in cleaning smelly bins – ABC News
Advocates for students with disabilities call on Ontario to stop school exclusions – Globe and Mail
Educating Grayson: Are inclusive classrooms failing students? – Globe and Mail
Feeling fidgety in class? Go stomp, jump or hop down this school's sensory hallway – CBC News