Update on the Ending of ACT's Contract with MCFD
ACT's staff and board thank all those who continue sending kind comments via Facebook, email and by telephone. It has been an honour for us to provide navigation and information services to families and professionals across B.C. since 2005. When we have information to share with the autism community from B.C.'s Ministry of Children and Family Development on their new vision of service provision, we will post it on our website and Facebook page.
In the meantime, ACT is continuing to provide our always friendly and efficient service as we work to re-design our programs – details below.
ACT's Live Event Calendar for 2017 – Registration Now Open!
ACT is finalizing the details of our 2017 event calendar. At ACT's live events, leading practitioners and researchers from across the world share their insights with B.C. parents and professionals. Join us for inspiration and information! See below for the events which have already been confirmed. Special thanks to our sponsors and speakers who make ACT's training possible.
ACT's 13th Annual Focus on Research Event – April 28 & 29, 2017
SFU Harbour Centre – Vancouver.
Mental Health is the focus of this year's Focus on Research conference. We are delighted to announce our two keynote speakers, Dr. Christopher Gillberg (University of Gothenburg, Sweden) and Jonathan Weiss (York University, Toronto). ACT's Online Mental Health and Autism Project committee will finalize the program over the next two weeks – save the dates for what will be a thought provoking two days!
Applications of CBT to Address Emotional Functioning in Youth with ASD – July 24 & 25- Vancouver
Jonathan Weiss, PhD, CPsych, Chair in ASD Treatment and Care Research, York University
Details & registration coming soon.
The events below are open for registration – register early and save!
Introduction to ASD – Practical Applications – POPARD
July 31 – Aug. 4 – Surrey
Kenneth Cole, PhD, RPsych
Executive Functioning Conference
Aug. 10 & 11 – Sidney
Sarah Ward, MS, CCC-SLP (Boston)
Introduction to ASD – Practical Applications – POPARD
Aug. 14 – 18 -Vancouver
Kenneth Cole, PhD, RPsych
Integrating ABA Methods in Schools: Supporting School Aged Children
Aug. 24 & 25 – Vancouver
Richard Stock, PhD, BCBA-D
Picturing Success: Visual Support Strategies for Individuals with ASD
Oct. 20 & 21, 2017 – Vancouver
Brenda Fossett, PhD, BCBA-D
Two Social Thinking® Days for Young Children
Nov. 16 & 17- Vancouver
Kari Zweber Palmer, MA, CCC-SLP & Ryan Hendrix, MS, CCC-SLP
Autism Videos @ ACT
ACT has added five new videos to AVA since the beginning of December 2016. This week we launch a new platform to make this free resource easier to navigate as we now have over 20 videos and we want to make sure our users don't get lost! Take a look at our new Videos home page which allows you to easily scan all our video offerings and view them when convenient to you, with no passwords. This is a free service made possible thanks to donors, sponsors and of course our presenters, who donate their time to this rich source of evidence-based community training, available internationally to all who need access to positive information on autism and other special needs.
NEW AVA Video for 2017 – The Essentials of Advocacy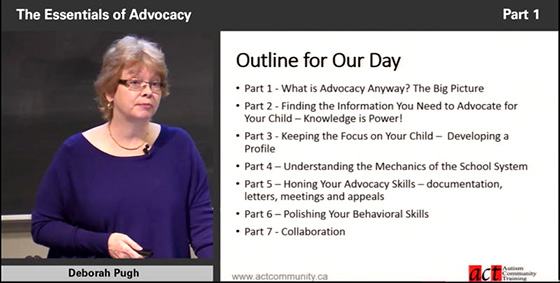 The Essentials of Advocacy: A Parent's Guide to Advocating for their Child with Special Needs
This free online ACT video provides practical, positive guidance on how to navigate various government systems that control access to services for children with special needs.
ACT has several videos awaiting editing. If you would like to support AVA's development, donate via cheque, online via Canada Helps, the United Way, or Employer Charitable funds. www.actcommunity.ca/donate
Autism Information Database
ACT is considering how we can fund the Autism Information Database as MCFD has indicated that they will not maintain this resource. The AID now has over 2,000 information and community resources carefully sourced from across B.C. and internationally. It is the only key-word searchable, non-commercial, multi-language resource of its kind internationally and we would like to continue it as an important resource for the autism community, nationally and internationally. Email dpugh@actcommunity.ca with any suggestions for sources of corporate/foundation funding.
Donating to ACT
As a federally registered not-for-profit society, ACT can provide tax receipts for donations over $10. ACT's Charitable Tax Number is #861691236RR0001.
How to Donate:
By cheque (send to office, made out to ACT – Autism Community Training)
Online via CanadaHelps or Chimp.net
Via the United Way (search for ACT- Autism Community Training Society, Burnaby)
Thank you to our donors and sponsors in 2016:
Individual donors and sponsors are listed on our donations page; thank you for contributing to world-class live and online training.
RASP Alert!


ACT is preparing to hand over the management of the Registry of Autism Service Providers to the Ministry of Children and Family Development as of June 30. In order to minimise delays for those planning to apply to the RASP, and to provide an efficient transition, ACT advises that all applications be submitted before May 1. Those applicants who fulfill the experience and coursework requirements, and have full documentation to support their applications, including references, will be processed by May 30th. ACT will not be accepting new RASP applications after May 15th.
MCFD will begin accepting new applications as of July 1st. Please note that the RASP application process will remain the same after July 1st as it a MCFD-regulated process which ACT has managed on MCFD's behalf since 2005. For more information on the RASP application process see: www.actcommunity.ca/rasp/sp-info/
RASP Updates for January 2017
Twelve RASP professionals have been added or had their status updated since December 31stth. As of January 26th, 2017, there are 669 professionals on the Registry for Autism Service Providers: www.actcommunity.ca/rasp/search/.
Behavior Consultants (Non-Supervised)
Bella Siu Man – Burnaby, North Vancouver, Richmond, Vancouver, West Vancouver
Larissa Davies – Bowen Island, Burnaby, North Vancouver, Port Moody, Salt Spring Island, Squamish, Surrey, Vancouver, Victoria, West Vancouver
Jemana Elsharkawi – Campbell River, Nanaimo, Port Alberni, Port Hardy, Port McNeil
Behavior Consultants (Supervised)
Brittney Mailloux – Kitimat
Speech-Language Pathologists (Non-Supervised)
Shadi Asadi – Cawston, Keremos, Oliver, Osoyoos
Clare Wolff – Prince George
Speech-Language Pathologists (Supervised)
Tara Casorso – Colwood, Langford, Sidney, Sooke, Victoria
Brianna Rosenberg – Burnaby, New Westminster, North Vancouver, Richmond, Vancouver
Occupational Therapists
Reetpal Brar – Burnaby, Coquitlam, North Vancouver, Vancouver
Darlene Clarke – Hazelton, Smithers
Emily Lee – Vancouver
Adelle Rama – Langford, Saanich, Sidney
RASP service providers leave the RASP for many reasons including retirement or moving out of province. No service providers were removed in January 2017.
RASP providers are urged to keep their contact information up to date either online or by contacting the ACT office. The RASP Service Providers page has information for new applicants; the criminal record check process and renewal and professional development.
ACT updates the RASP list weekly. See who is new in your community at www.actcommunity.ca/rasp/search/.
Autism on the Hill Seeking Photos for Ottawa event
Each year, Autism on the Hill holds a rally at the Parliament buildings in honour of World Autism Day. They are asking family members, caregivers, and people with autism to send in pictures to go on their banner to raise awareness of the diversity of Canada's national autism community. Submit your photo.
Highlights from ACT's Special Needs Community Events Listing
Sports and Recreation Programs for Children and Youth with Autism
Canucks Autism Network (CAN) provides highly supported sports and recreation programs for children, teens, and young adults living with autism in Kelowna, Kamloops, the Valley, the Lower Mainland, Victoria, Duncan, and Nanaimo. Online registration for CAN's spring session of multi-week programs will take place from Monday, February 20th at noon, to Friday, February 24th at noon. Not yet a CAN member? Join today for only $25/year at www.canucksautism.ca/join.
ACT's South Asian Autism Project's Monthly Support Group
In collaboration with Surrey Schools and SFU, ACT hosts a monthly support group for South Asian Families raising a child with autism. Come to a meeting and raise your questions; topics are decided on at the meeting, and conversations are held in English and Punjabi.
Next Meeting: February 23, 2017 at École Henry Bose Elementary School, 6550 134 Street, Surrey. For more information, see the ASAAP Support Meeting flyer. Please see the Act in Punjabi page for more on the work of ACT's South Asian Autism Awareness Project (ASAAP) Committee.
Upcoming Special Needs Community Events
See what is happening across B.C. or post your community/training event for the special needs community at www.actcommunity.ca/special-needs-community-events/. Here are some upcoming events in February:
Feb 1 Autism and Tax – New Westminster, B.C.
Feb 1 – 3 Early Start Denver Model Advanced Workshop – Duncan, B.C
Feb 4 – 5 Behaviour Interventionist Basics Training Workshop – Nanaimo, B.C.
Feb 6 Introduction to Problem Behaviour in Children and Youth with ASD – Squamish, B.C.
Feb 7 – 8 Using the SCERTS Framework to Foster Active Engagement in Students with Autism – Richmond, B.C.
Starting Feb 7 PEERS: Social Skills Group for Teens with ASD – Vancouver, B.C.
Feb 17 – 18 Autism Conference – Richmond, B.C.
Feb 17 – 18 Demystifying the Classroom – New Westminster, B.C.
Feb 24 – Autism 101 – Prince George, B.C.
Feb 25 – Behaviour Interventionist Basics Training Workshop – Prince George, B.C.
March 2 – Launch in to Life – Coquitlam
View all events on our Special Needs Community Events page
Participate in Research & Build Knowledge!
Are you interested in participating in autism research? Some of the latest projects underway in Canada and internationally are posted on ACT's website: www.actcommunity.ca/information/research/participate-research/.
Simon Fraser University Parent-Child Study
The Autism and Developmental Disorders Lab invites parents and children age 7-12 with or without ASD to participate in research about how children develop social skills for communication and interaction. Parents and children will work together on fun and interactive activities. Parents receive $30 and parking remuneration in thanks for participating in the 3 hour study. Please contact addl@sfu.ca for more information.
Autism in the News
For more news and stories, follow ACT on Facebook