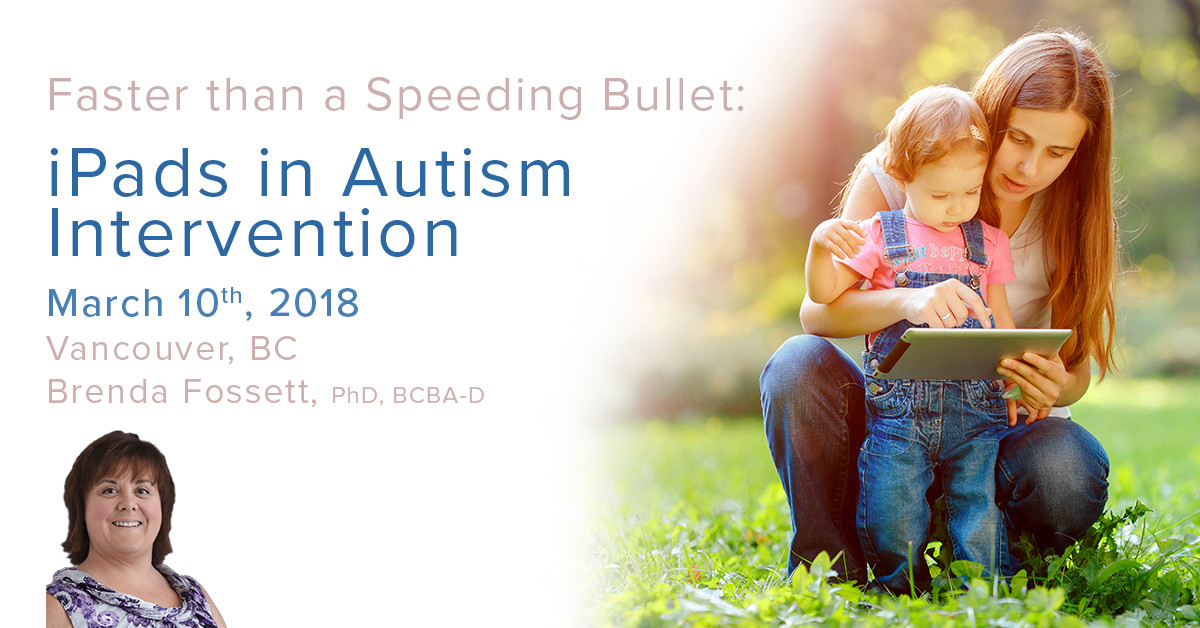 Faster than a Speeding Bullet:
iPads in Autism Intervention
March 10th, 2018, Vancouver
with Dr. Brenda Fossett, BCBA-D
Save $50 when you register by March 5!
For an update on the latest and greatest educational and communication apps for children and adults with special needs, join Dr. Brenda Fossett, BCBA-D for a day that will ensure you are up to speed!
Since the iPad was first released in 2010, the use of iPads and other tablets have become common learning tool in the educational environment. For individuals with autism and other developmental disabilities, they have been seen as "miracle" devices. However, for these devices to be effective, there is a lot to be considered.
This workshop will review a number of skill areas in which the iPad can be a useful instructional tool and/or an aid for daily living. Current research regarding the effectiveness of iPad and other tablet-based applications in a variety of skill areas, including communication, academic, daily living, social and employment skills will be reviewed.
Relevant apps will be discussed and/or demonstrated. This presentation will address the age range, from young children to adult. It is aimed at those who need considerable support in communication and behaviour.
Event Details & Registration
About the Presenter
Dr. Brenda Fossett, BCBA-D is an inspired teacher who is widely admired for her ability to convey complex concepts to those who work with children and adults with special needs, whether they are educational professionals or parent. Dr. Fossett has been on faculty in the Applied Behavior Analysis – Autism Department at Capilano University since 2013.