February News Round-Up: New online videos platform and RASP search, MCFD Service Provider Portal, Autism Awareness Events and more.
ACT News
Launching Autism Videos @ ACT (AVA)

Did you know that ACT hosts 15 different streaming videos on ACT's website?
If you've watched ACT's autism videos before, you'll see a big change this month. ACT's online video platform has been totally redeveloped. Some of the highlights of Autism Videos @ ACT (AVA) are:
5 new videos available in February 2015
Every video is free – thanks to our presenters and sponsors
No login or password required
An easy-to-navigate and browse site
Videos are divided into chunks for busy schedules
Viewable on smart phones and tablets
These innovations have been made possible due in large part to fundraising by John Carinha and Row4Autism, in collaboration with Canucks Autism Network, as well as support from Els for Autism Canada. For more information on AVA, download the PDF.
Tax Time – Expert Advice for Special Needs Families – Free
It is the time of year when we would all like more expertise in figuring out how to make the proper claims for our family members with disabilities and how to protect them from financial abuse. For a free online presentation from one of Canada's leading tax lawyers, who understands the particular issues facing families who have children who require additional protection, see Blair Dwyer's presentation at Autism Videos @ ACT (AVA). This presentation is free, available on your schedule and divided into digestible chunks for the tax impaired!
ACT welcomes support for AVA and other projects. For more information on how to contribute see the ACT website.
New RASP Search Tool on the ACT Website
ACT has redesigned the RASP Search Page to better assist families to identify professionals who are a good fit for their needs. The RASP can be searched by:
Profession – Behavior Consultant, Speech-Language Pathologist, Occupational Therapist, Physical Therapist
Cities served – enter your city or the city closest to you
Languages spoken – Does the professional provide service in languages other than English?
Currently accepting new clients – The search can include or omit professionals who indicate they are not accepting new clients.
Coming Soon:
Remote Communities – Does the professional travel to remote communities?
Video conferencing – Does the professional provide this service?
ACT has a team of information officers, please contact us for individualized support in English, Mandarin and Cantonese at info@actcommunity.ca or telephone 604-205-5467; toll-free 1-866-939-5188.
If you have any feedback about the new RASP Search page, email raspadmin@actcommunity.ca
Grant from Autism Speaks Canada for ACT's South Asian Autism Awareness Project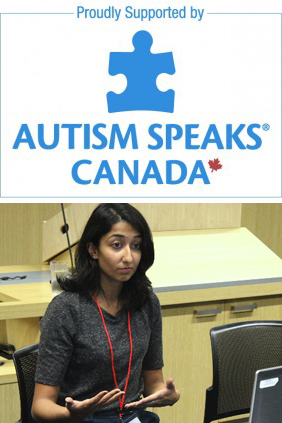 ACT – Autism Community Training is pleased to announce funding from Autism Speaks Canada Family Services Community Grant to improve our services to B.C.'s South Asian community.
The goal of the grant is to improve community acceptance and support for South Asian families impacted by ASD and to provide South Asian families with information about the rights of their children to services, including early intervention, an inclusive education, and access to job training.
Photo Caption: Parb Bains presenting for ACT's South Asian Autism Project in December 2014 for South Asian families at the Surrey School District on Individual Educational Plans.
Support for AID from NeuroDevNet
We are getting great feedback on the Autism Information Database (AID) from users- think of the AID as Google for Autism but better! As there are so many terrific international resources to add, we are delighted to announce the hiring of practicum student, Yvonne Su, who has joined ACT thanks to generous support from NeuroDevNet. Yvonne is a CapU student in their Autism/ABA program which has given her a strong background for evaluating and creating records for the AID on practical, parent-friendly resources. If you would like to recommend a resource, email ysu@actcommunity.ca.
ACT's Upcoming Live Events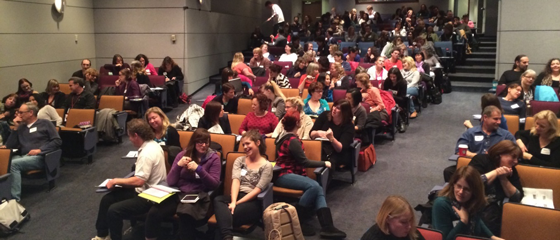 Already this year, ACT has booked 15 live events with more being added weekly. For details of our event including presentations in Kelowna, Kamloops and Prince George see ACT's current listings online.
March 27, 2015 – Vancouver, B.C.
ACT's 11th Annual Focus on Research Event
ESSENCE: What research is telling us about the need for inter-disciplinary collaboration to meet the needs of children with a range of neurodevelopmental conditions
Christopher Gillberg, M.D., Ph.D.
April 18th, 2015 − Vancouver
For April – Autism Awareness Month
Update on ACT's Resources & Panel Discussion on Advocacy
Presentations on ACT's new resources & panel discussion.
April 24th, 2015 – Kelowna, B.C.
The ASD-Friendly Classroom (It's a Student-Friendly Classroom!
Allison Adams, M.A.
April 25th, 2015 − Kelowna, B.C.
Faster than a Speeding Bullet: iPads in Autism Intervention
Brenda Fossett, Ph.D., BCBA-D
ACT Events Made Possible through Sponsorship


Last week, ACT presented a two-day 'Social Thinking' event in Sidney thanks to the annual sponsorship provided by Dwyer Tax Lawyers. Financial sponsorship helps ACT travel outside Metro Vancouver, and in-kind sponsorship helps get the word out. For more information, please visit our sponsorship page or contact ACT at info@actcommunity.ca or 1-866-939-5188.
Vocational News
Request for Proposals for Pre-Vocational Training Programs


CommunityWorks Canada (CWC) is a pre-vocational training program designed to improve employment readiness and the employment skills of youth and young adults with ASD. CWC is calling for proposals to deliver the CWC program across Canada. More details online.
Nominations for Employer of the Year
If you know of an employer who goes the extra mile to ensure that people with disabilities are gainfully employed, nominate them by February 27th, 2014. See details online or call the Disability Alliance of BC: 604-875-0188 or toll free at 1-800-663-1278.
Recruiting Individuals with Autism
Are you interested in employment for individuals on the autism spectrum? Fill out an application form at Focus Professional Services before March 27th, 201. For more information, visit the Careers page at Focus Professional Services or email info@focusps.ca.
Toastmasters for Youth and Young Adults with Autism
PosAbilities Employment Service is hosting a Toastmasters Group for youth and young adults who identify as having ASD. Improve public speaking skills, make new friends and explore different topics. Artists of Articulation is a welcoming group of individuals who use Toastmasters educational tools to provide a supportive environment. Attend an information session on March 17, 2015 at posAbilities Employment. For more information go to their website.
Autism Funding Branch Service Provider Portal


The Ministry of Children and Family Development has developed an online 'Service Provider Portal'. Autism Service Providers (including RASP Professionals and BIs) will be able to submit invoices to the Autism Funding Branch electronically and view the status of authorizations and payments. For more information download PDF.
Volunteer News
CAN/ACT bursaries for CAN volunteers
Last December, CAN and ACT invited Canucks Autism Network (CAN) volunteers to apply for one of four $500 grants to be used for ACT's live events. CAN received many excellent applications. The recipients are: Hema Chodha, Kelvin Choo, Natasha Chow and Sarah Fletcher, all highly engaged CAN volunteers. Thanks to CAN for giving ACT the opportunity to partner in this initiative.
UBC Befrienders Program
Volunteers wanted! Are you interested in befriending a person with autism? If so, there is a program at UBC looking to study a new approach. As a 'befriender', you will be matched with a person with autism. The two of you will spend 2-3 hours together each week or two over one year. Please contact Monica Parelkar at monica.parelkar@ubc.ca or (604) 875-2000 ext. 6428, or see this online poster for further details.
Sensory Friendly Screenings
Autism Speaks Canada and Cineplex are partnering to offer Sensory Friendly Screenings (increased lighting, lower volume, less crowds and a designated calm zone). See Cineplex site for details.
April Autism Awareness Events in Vancouver, Kelowna, Osoyoos
CAN Family Festival – Vancouver – April 12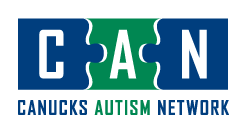 The Canucks Autism Network (CAN) Family Festival is back! Join CAN on Sunday, April 12th at Jack Poole Plaza (Vancouver Convention Centre) to celebrate April Autism Awareness Month with a walk, live entertainment, food, and family fun! This event is open to the public with FREE admission. For more information, please visit www.canucksautism.ca/support.
Osoyoos Walk for Awareness – April 18
Osoyoos Autism Behavioural Centre's Walk for Awareness is April 18th. Doors open at 11am, and the walk starts at noon. They recommend that you dress silly or like your favourite superhero. For more information, visit their Facebook page.
Kelowna Autism Awareness Walk – April 26
The 3rd Kelowna Autism Awareness Walk will be held on Sunday, April 26th, from 12 to 3pm at Mission Creek Regional Park. This is an awareness walk for people to find out more about what resources are available in the community for families living with autism. See their Facebook page for more details.
Light it Up Blue for World Autism Awareness Day – April 2
April 2 is World Autism Awareness Day – Autism Speaks Canada has some ideas to help you Light it Up Blue.
Community Walks for 2015 with Autism Speaks Canada
Check the new BC Community Walks for 2015 for Autism Speaks Canada: www.autismspeaks.ca.
Send ACT Your Community Autism Awareness Events
ACT will be sending out another Monthly News Round-Up at the end of March – sent us a brief description of your community event for the Round-Up (info@actcommunity.ca) and for ACT's listing of Non-ACT events.
Participate in Stem Cell Survey
The UBC National Core for Neuroethics and NeuroDevNet are surveying the views of parents on sources of information for stem cells and stem cell therapies for children with autism and cerebral palsy. The survey is open until March 13, 2015; it should take about 10 minutes to complete. Contact project leader Dr. Nina Di Pietro at dipietro@mail.ubc.ca or 604-822-0748 with any questions.
Autism in the News
George the Poet's stories from the spectrum (BBC documentary)
Autism studies finds no two case are the same, redefining diagnosis (radio story on CBC)
Why more U.S. parents are refusing to have their children vaccinated (Globe and Mail)
Boy with autism meets idol Bill Nye the Science Guy (ABC News)
Canadian homeopathic college criticized for anti-vaccine stand (Globe and Mail)
Autism Events Across Canada
1st Canadian National Autism Leadership Summit

March 30 – 31st, 2015 – Ottawa
Across Canada, leaders of autism organizations and those involved in research and public policy affecting the autism community are invited to Ottawa for the inaugural Canadian Autism Leadership Summit on March 30 & 31, 2015. The goal is to build national consensus to promote change, led by the Canadian ASD Alliance (CASDA). If you are engaged in a leadership position in your community or are a clinician, researcher or policy developer, plan to be there! Stay an extra day and celebrate World Autism Day on Parliament Hill, on the morning of Wednesday, April 1st. Register online.
The 47th Banff International Conference on Behavioural Science – Autism in Transition

March 15-18, 2015 – Banff, Alberta, Canada
Join NeuroDevNet for Autism in Transition, featuring leading North American researchers and practitioners and the latest perspectives on how to understand, diagnose and treat autism spectrum disorder (ASD) in children, adolescents, and adults. Important advances in neuroscience, behavioral phenotyping, and epigenetic/genetics will be discussed, as well as the importance of early diagnosis, effective interventions and policies in enhancing outcomes for individuals and families impacted by autism. Information on registration page.