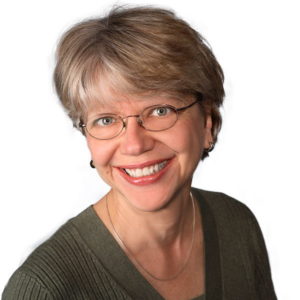 Thursday & Friday, July 19 & 20, 2018
Carol Gray
Founder and Innovator, Social Stories Satellite Schools and Services, and Carol's Club
Vancouver Island Conference Centre
Social Stories with Carol Gray 2018

You can also register by calling us.
| | |
| --- | --- |
| Level | Introductory/Intermediate |
| For | Family Members, Educators and Para-Professionals, Psychologists, SLPs, Behaviour Consultants/Analysts |
| Approach | Using Social Stories to enhance understanding |
| Focus | Lifespan |
| Autism-specific? | No - Relevant for a range of special needs |
Co-sponsored by
Page Index
About the Event
Social Stories can play an essential role in enhancing communication and bringing down anxiety among individuals with ASD.  Over the past two decades, Social Stories, and their innovator, Carol Gray, have earned the respect of parents, professionals, and people with autism, for their utility in providing clear explanations of what is often a confusing social world. This Social Stories 10.2 workshop, led by Carol Gray, will devote two full days to the art and science of Social Stories, with the focus on practicing skills and discussing new strategies.   
Join us at the beautiful Vancouver Island Conference Centre, to polish your Social Stories skills or discover the versatility of this instructional strategy for the first time. No previous experience of Social Stories is required.
Learning how to research, develop, and implement a genuine Social Story is critical to their effectiveness, safety, and integrity. While one of the most popular evidence-based instructional strategies for learners with autism, Social Stories are also frequently misused. This workshop will define clearly the criteria for what a Social Story is and how you can develop them to build positive social concepts and skills in an individually tailored, unassuming, and supportive learning context. 
Learning Outcomes
At the close of the workshop day, participants will be able to:
Outline the philosophy and research-based rationale of every Social Story;
Explain how the Social Story goal may be used by any parent or professional to determine what is – and is not – a Social Story;
List the 10.2 criteria that ensure the integrity and safety of every Story, while demonstrating 'fluency' and understanding of the 10.1 criteria; 
Define all Social Story terms; 
Describe how research and philosophy create important ties between how a Story is researched, developed, and implemented; 
Write a Social Story.
Participants will receive an Advanced Social Story Certificate at the conclusion of the workshop.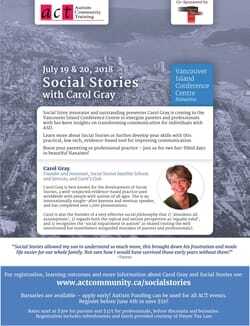 About the Presenter
Carol Gray is a consultant to children, adolescents, and adults with autism, providing support via workshops and presentations, information, referral, resources, and direct services for individuals with autism, their families, and professionals who work on their behalf.
Carol Gray is best known for the development of Social Stories, a well-respected evidence-based practice used worldwide with people with autism of all ages. She is an internationally sought-after keynote and seminar speaker, and has completed over 1,000 presentations.
Carol is also the founder of a very effective social philosophy that 1) 'abandons all assumptions', 2) regards both the typical and autism perspective as 'equally valid', and 3) recognizes the 'social impairment in autism' as shared (noting the well intentioned but nonetheless misguided mistakes of parents and professionals). She has completed ground-breaking work on some of the toughest topics in autism by reviewing the research, outlining new theories, and developing practical instructional strategies, most notably Gray's Guide to Bullying (2004) and Gray's Guide to Loss, Learning, and Students with ASD (2003).
Carol has received many awards for her work, including Social Thinking's Lifetime Achievement Award (San Francisco, 2015); Learning Spring School's Spectrum Award for her global efforts in education and improving the lives of people with autism (New York City, 2012), the Autism Society of America Education Book of the Year, The New Social Story Book: Revised and Expanded 10th Anniversary Edition (2009), and the Barbara Lipinski Award (Lansing, Michigan, 2005) for her international contribution to the education and welfare of people with autism.
Workshop Schedule
| | | | |
| --- | --- | --- | --- |
| 8:15 | - | 9:00 | Registration |
| 9:00 | - | 10:15 | Session 1 |
| 10:15 | - | 10:45 | Morning break (coffee and light snacks will be provided) |
| 10:45 | - | 12:00 | Session 2 |
| 12:00 | - | 1:00 | Lunch (a light lunch will be provided) |
| 1:00 | - | 2:15 | Session 3 |
| 2:15 | - | 2:30 | Afternoon Break (coffee and light snacks will be provided) |
| 2:30 | - | 3:30 | Session 4 |
This schedule will be used for both days.
Cost/Fund/Bursaries
Registration fees include catered breaks and lunches for both days of the conference.
| | Date | Parents, Para-Pros & Students | Professionals |
| --- | --- | --- | --- |
| Early Bird Rate ends | June 13th, 2018 | $300 | $375 |
| Regular Rate ends | July 11th, 2018 | $350 | $400 |
| Late Rate begins | July 12th, 2018 | $375 | $425 |
Bursaries
ACT continues to offer bursaries for para-professionals and professionals, as well as parents of children with other special needs, to improve accessibility to both our live and web streamed events. Please apply early and before you register for the event. ACT provided $31,000 in bursary funding in 2017 in the form of reduced registration fees and gratefully accepts donations to our bursary fund to allow us to provide a greater level of support. Donate to ACT's bursary fund.
MCFD-funded Event Bursaries for Parents of Children with ASD
Please note that MCFD Parent Bursary funding has been exhausted. Since April 1, 2017, ACT has used MCFD Parent Bursary funding to provide $60,000 in bursaries in the form of reduced registration to families & caregivers from across B.C. to enable them to build their skills by accessing training. Regular registration rates are now in effect however parents of children with ASD are welcome to apply for an ACT Bursary if the registration cost is a barrier preventing attendance. 
For more information on ACT's Bursary programs, see our Bursary FAQ page.
Autism Funding
Parents who receive Autism Funding may use 20% of the total for equipment, books, training and travel costs. ACT's live events are considered eligible expenses by the Autism Funding Branch. For more information, please see Workshop Registration Using Autism Funding.