SMILE – Structured Methods in Language Education
A Multisensory Language Learning Program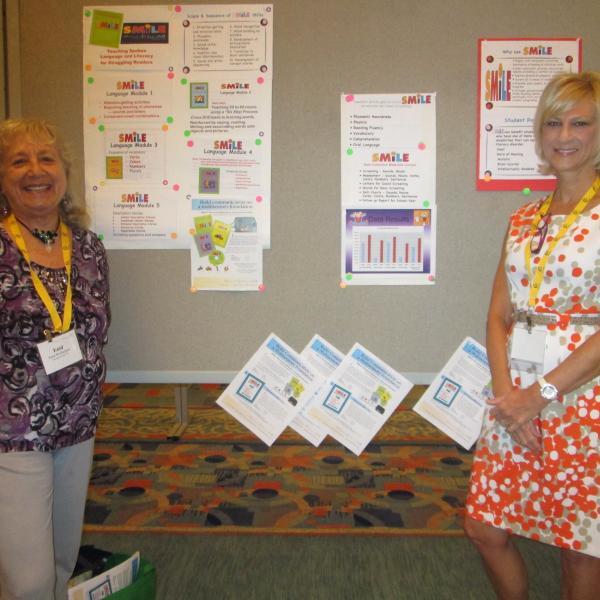 Wednesday & Thursday, July 29 & 30, 2015
Enid Wolf-Schein, Ed.D., CCC-SLP
Rhonda Bachmann, M.S. Ed.
SFU Goldcorp Centre
SMILE – Structured Methods in Language Education
You can also register by calling us.
| | |
| --- | --- |
| Level | Introductory/Implementation |
| For | Pre-school and primary teachers, special educators, behavior consultants, speech-language pathologists, behaviour interventionists and parents who are looking for a methodology for children who are not speaking or reading very little or not at all. |
| Focus | Pre-school and school-age children with special needs who have limited verbal language and difficulty with reading. |
| Autism-specific? | SMILE has been used successfully with children with autism as well as children who are hearing impaired, intellectually disabled, or who have a traumatic brain injury or central auditory processing disorders, among other conditions. |
Page Index
About the Event
SMILE is a multi-sensory approach to teaching speech, reading, and writing skills to learners with a range of special needs as part of a total educational management system. It addresses the needs of students who have difficulty with phonemic awareness and have failed to learn to speak or read through "natural or more conventional/traditional approaches." This two-day workshop includes simulation exercises and video examples of real-time teacher implementation sessions with students.
Initial and Final Screening and ongoing data collection materials are part of the program to enable evidence-based assessment.
Learning Outcomes
Participants will gain an understanding of SMILE that can teach speech, reading and writing to students with the most severe language-learning problems.
Participants will be introduced to the scope and sequence of the SMILE curriculum that takes students from where they have no intelligible speech to a more appropriate conversational and reading competence.
Participants will be able to compare the SMILE curriculum to natural-learning and other phonic-based methods.
Participants will practice the specific teaching procedures for each of the five components (or Modules) of the SMILE program.
Participants will know the goals and short-term objectives for each of the five SMILE modules in order to incorporate them into the student's IEP in the areas of language and literacy.
Participant Comments
"Having a child learn to read is pivotal. It opens the world." - parent
About the Presenters
Enid Wolf-Schein (left) and Rhonda Bachmann (right) 
Enid Wolf-Schein has a Doctorate in Special Education and Speech-Language Pathology from Boston University. She is a Life Member and Fellow of the American Speech and Hearing Association (ASHA). Currently she is a programming consultant for special populations for the New York City Department of Education District and for Broward County, Florida. Dr. Wolf-Schein first published SMILE in 2004 when she did her first SMILE presentation for ACT.  Recently she has presented her work on autism at the Boston University Autism Center of Excellence (ACE) studying minimally verbal children.
Rhonda Bachmann has a Masters in Early Childhood Education and a Bachelor's degree in Moderate, Severe and Profound Handicapping Conditions.  A program and training specialist for children with autism in Broward County Public Schools in Florida, she has provided over 40 professional learning opportunities in SMILE across Florida as well as presenting at national conferences since 2003.  Ms. Bachman has been a national consultant for the Nova Southeastern Autism Consortium since 2008 and has led county and state workgroups for students with autism and significant cognitive disabilities.
Workshop Schedule
| | | | |
| --- | --- | --- | --- |
| 8:30 | - | 9:00 | Check-in |
| 9:00 | - | 10:15 | Session 1 |
| 10:15 | - | 10:30 | Morning Break (light snacks will be served) |
| 10:30 | - | 12:00 | Session 2 |
| 12:00 | - | 1:00 | Lunch (a light lunch will be provided) |
| 1:00 | - | 2:15 | Session 3 |
| 2:15 | - | 2:30 | Afternoon break (light snacks will be served) |
| 2:30 | - | 3:30 | Session 4 |
Cost/Fund/Bursaries
Ordering SMILE Materials - Deadline June 22 from ACT 
Please note that the registration prices below do not include the SMILE Kits.
All attendees will require access to a SMILE Kit during the training. If you are coming with an organization or a colleague, one copy can be purchased to share during the training. We are ordering SMILE Kits for registrants who prepay by June 22, so that we can bring down the price per kit by ordering in bulk.
The cost for the SMILE materials from ACT is Can$295. This includes the SMILE Kit with manual, teacher guides, CD of reproducible student workbooks, flash cards and a dry-erase board kit, all in a messenger bag. Also part of the purchase is SMILE Plus, which includes 3 more CD's – all reproducible resources.
After June 22, registrants will need to order directly from the US publisher and ACT cannot guarantee you will receive it in time. The cost to order the kits directly from the publisher is over US$300.
For more information about the SMILE Kit and SMILE Plus, including costs in $US, see SMILE Kit and SMILE Plus.
Register for July 31, Strategies for Working with Young Children with Autism: Supporting Slower Responders, along with this event and receive a 15% discount. 
| | Date | Parents, Para-Pros & Students | Professionals |
| --- | --- | --- | --- |
| Early Bird Rate ends | June 22nd, 2015 | $200 | $250 |
| Regular Rate ends | July 20th, 2015 | $275 | $300 |
| Late Rate begins | July 21st, 2015 | $350 | $400 |
Bursaries
ACT fundraises to provide bursaries for low-income participants and/or those travelling from outside their home regions to an event. ACT only provides bursaries prior to registration.  Please read Bursary Information. You are welcome to call or email ACT's office (info@actcommunity.ca) for more information. ACT provided $24,000 in bursaries in 2014 and gratefully accepts donations to our bursary fund to allow us to provide a greater level of support. Donate to our bursary fund. 
Autism Funding
Parents who receive Autism Funding may use 20% of the total for equipment, books, training and travel costs. ACT's live events are considered eligible expenses by the Autism Funding Branch. Please pay when you register; the Autism Funding Branch will reimburse parents after the event.
More Autism Funding Information >