Promoting Speech and Language in Individuals Across the Autism Spectrum
Collaboration for Success and Focusing on Non-Verbal Children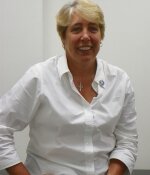 Friday & Saturday, October 24 & 25, 2014
Joanne Gerenser, Ph.D., CCC-SLP
Executive Director of Eden II Programs, Staten Island, NY
SFU Harbour Centre
Promoting Speech and Language in Individuals Across the Autism Spectrum
You can also register by calling us.
| | |
| --- | --- |
| Level | Intermediate to Advanced |
| For | Community professionals, para-professionals, family members |
| Focus | Professional collaboration; promoting speech in non-verbal children |
| Autism-specific? | Yes |
Page Index
About the Event
Day 1 - Promoting Speech and Language in Individuals across the Autism Spectrum: Collaboration for Success 
Speech-Language Pathologists (SLPs) and Behavior Analysts specializing in Applied Behavior Analysis (ABA) frequently participate together on intervention teams for children with autism. Collaboration between these professionals can enhance the team's work, the outcomes for children and reduce the stress of parents.  However, overlapping areas of expertise, different terms used for similar instructional elements, and variations in addressing the same problems may complicate the collaborative process unless each professional understands the other's framework.  This presentation will provide an overview of the complex learning profiles of learners with ASD.  Specific focus will be on the areas of early learning and joint attention as well as the development of speech.  Case studies within these areas will be presented to illustrate strategies for effective collaboration.
Following this workshop, participants will be able to:
Describe the learning characteristics of children with ASD
Identify areas of overlapping expertise and roles for the SLPs and behavior analysts
Identify potential strategies to enhance collaboration between the speech pathologist and the behavior analyst 
Day 2 - Promoting Speech in Non-Verbal Children 
This presentation will provide an overview of the key components of an effective program to promote speech in children with ASD.  It will begin with the development of joint attention and early social and linguistic development.  It will then provide an overview of speech acquisition and the barriers often faced by learners on the autism spectrum.  Strategies to promote speech as well as enhance speech intelligibility will be presented.  Despite early intensive intervention, some learners with ASD never develop functional speech.  This workshop will conclude with an overview of augmentative and alternative communication (AAC).  Issues unique to individuals on the autism spectrum will be highlighted.
Following this workshop, participants will be able to:
describe joint attention and its role in the development of linguistic and social competence
describe strategies to enhance language comprehension in learners with ASD
list several barriers often faced by learners with ASD in the development of speech
describe strategies to promote speech and enhance speech intelligibility in learns with ASD
identify several different AAC systems for learners with autism and discuss pros and cons for each system
About the Presenter
Joanne Gerenser received her Ph.D. in Speech and Hearing Science at the City University of New York Graduate Center. She is an adjunct Assistant Professor at Brooklyn College as well as Penn State University. Dr. Gerenser has authored a number of book chapters and articles on autism and has won numerous awards for her work with people with autism. She is an Associate Editor of the Journal of Speech-Language Pathology and Applied Behavior Analysis and sits on a number of Professional Advisory Boards for programs serving children and adults with autism in the U.S. and abroad.
Workshop Schedule
| | | | |
| --- | --- | --- | --- |
| 8:30 | - | 9:00 | Check-in |
| 9:00 | - | 10:15 | Session 1 |
| 10:15 | - | 10:45 | Break (coffee and light snacks served) |
| 10:45 | - | 12:00 | Session 2 |
| 12:00 | - | 1:00 | Lunch (buy or bring your own) |
| 1:00 | - | 2:15 | Session 3 |
| 2:15 | - | 2:30 | Break (coffee and light snacks served) |
| 2:30 | - | 3:30 | Session 4 |
Note: This schedule is for both days. 
Cost/Fund/Bursaries
| | Date | Parents, Para-Pros & Students | Professionals |
| --- | --- | --- | --- |
| Early Bird Rate ends | September 25th, 2014 | $225 | $275 |
| Regular Rate ends | October 16th, 2014 | $300 | $350 |
| Late Rate begins | October 17th, 2014 | $350 | $400 |
Bursaries
ACT's live events are self-supporting through registration fees and sponsorship; we do not receive government funding. ACT fundraises to provide bursaries for low-income participants. We prioritize family members and autistic adults for bursaries which are given in the form of lower registration fees. ACT only provides bursaries prior to registration for those who want to join our online audience. Learn more about how to register using the ACT event bursary program. You are welcome to call or email ACT's office (info@actcommunity.ca) for more information. ACT provided over $11,000 in bursaries in 2019 and gratefully accepts donations to our bursary fund to allow us to provide a greater level of support. Donate to our bursary fund.
Autism Funding
Parents who receive Autism Funding may use 20% of the total for equipment, books, training and travel costs. ACT's live events are considered eligible expenses by the Autism Funding Branch. Please pay when you register; the Autism Funding Branch will reimburse parents after the event.
More Autism Funding Information >