ACT has added five new videos to AVA since the beginning of December 2016. Last week we launched a new platform to make this free resource easier to navigate as we now have over 20 videos and we want to make sure our users don't get lost! Take a look at our new Videos home page which allows you to easily scan all our video offerings and view them when convenient to you, with no passwords. This is a free service made possible thanks to donors, sponsors and of course our presenters, who donate their time to this rich source of evidence-based community training, available internationally to all who need access to positive information on autism and other diverse needs.
ACT has several videos awaiting editing. If you would like to support AVA's development, donate via cheque, online via Canada Helps, the United Way, or Employer Charitable funds. www.actcommunity.ca/donate
NEW AVA Video for 2017 – The Essentials of Advocacy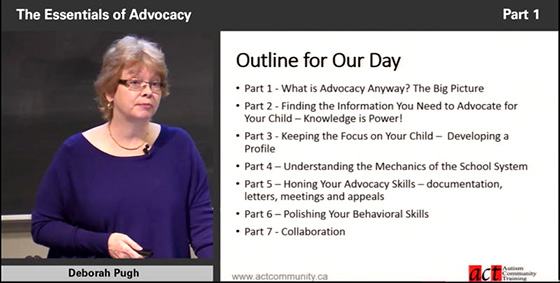 The Essentials of Advocacy: A Parent's Guide to Advocating for their Child with Diverse Needs
This free online ACT video provides practical, positive guidance on how to navigate various government systems that control access to services for children with diverse needs.