[addtoany]
If you would like to receive ACT's Monthly News Round-Up directly in your inbox, sign up for our newsletter.
Seymour Triple G – Volunteer or Donate to Support ACT's Free Resources


ACT is delighted to announce the 1st Annual Seymour Triple G Road Cycling Fundraiser. Donate, sign up to ride or come cheer the riders on Saturday, June 25th, 2016, Mount Seymour, North Vancouver.
Sponsored by Loma Bike, Mt Seymour, Cycling BC, and Brite Coaching, this fundraiser will challenge riders with a 15 km ride up a 7-10% grade. This ride is considered "hors catégorie" (more than a Category 1 climb), and will demand heart, stamina and determination – much like the challenge autism presents for individuals and their families.
Challenge your friends, family and colleagues to put together a team for the Seymour Triple G or donate online.
ACT is seeking volunteers for:
Promotions: Friendly, outgoing people to hand out brochures at high-traffic cycling areas including Horseshoe Bay, Mt. Seymour, SFU, Iona Beach, or Galileo Coffee near Britannia Beach, weekend mornings, from May to mid- June.
Photography: High quality photographers to take action photos of the riders and attendees on the day of the event. You'll have to be fast!
Day of Event Support: Help us with setup and registration, cheer on the riders and serve breakfast at the top.
Please email info@seymourtripleg.ca if you are able to help.
Funds raised will go to the Autism Videos @ ACT (AVA) project, which hosts 16 free online videos on topics ranging from community recreation, education, toilet training, and the transition to adulthood. Funding will help expand and develop this free resource available to families and professionals when they need it as well as other autism awareness resources. All donations over $10 will receive a tax receipt. ACT's Charitable Tax Number is #861691236RR0001
Go to www.seymourtripleg.ca for more information or email info@seymourtripleg.ca
MCFD's Parent's Handbook to be Translated into 8 Languages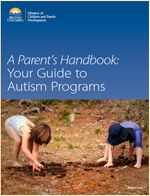 ACT- Autism Community Training is pleased to announce that we have been funded by the Ministry of Children and Family Development (MCFD) to manage the translation of MCFD's A Parent's Handbook: Your Guide to Autism Programs into eight languages. We anticipate that these translations will help ensure that more families will have access to the information they need to make informed decisions about their child's intervention program.
This project was announced by B.C.'s Minister of Children and Family Development, the Honourable Stephanie Cadieux, at ACT's 12th Annual Focus on Research Conference on April 15. The handbook will be translated into Arabic, Chinese, French, Japanese, Korean, Persian (Farsi), Punjabi and Spanish. The work will begin this summer.
Download the English language version of A Parent's Handbook. See the Ministry's News Release for more details on this project.
Sign up for ACT's Mailing List to receive ACT's Monthly News Round-Up for updates on provincial autism news, including the release of these translations.
Key Ideas from the 12th Annual Focus on Research


ACT's 12th Annual Focus on Research was a great success. There were opportunities to share at the lunch tables, on the posters in the foyer and during sessions. Selected presentations were webstreamed, reaching communities across B.C. When ACT has the funding available, the sessions we recorded will be edited and added to AVA – Autism Videos @ ACT.
Conference Highlights
Here are just few of the many interesting insights and ideas that came out of the conference:
The Invention and Reinvention of Autism – Dr. Roy Richard Grinker's talk encouraged a second look at diagnostic tools to take into account cultural variations in child behavior. He encouraged professionals to consider whether or not it is culturally accepted to sustain eye contact, for adults and children to play together, or to point. If not, then these are insufficient diagnostic measures as it is necessary to consider cultural expectations for joint attention, play, or social interaction. Dr. Grinker's fascinating book is well worth a read: Unstrange Minds: Remapping the World of Autism (www.unstrange.com).
An Aboriginal Perspective on Supporting Children and Families with Special Needs – Rona Sterling-Collins, a First Nations consultant and parent of an 18-year-old with autism, described how she organized the gathering of her extended family to share a meal and learn about autism after her son was diagnosed. The workshop included autism awareness information and an opportunity for discussion without the presence of Rona or her husband. This helped the extended family "have a better understanding of autism".
Family Quality of Life and ASD Funding in B.C. – Dr. Grace Iarocci and Dr. Emily Gardiner talked about encouraging parents to engage in research by folding research into a fun summer camp for children. The tasks are embedded into games or puzzles, and the group (not individual) research results are eventually shared with families. See the ADDL lab page for details on 2016 camps.
Connecting with South Asian Families of Children with Autism – Preetinder Narang's presentation focused on strategies for service providers to develop cross-cultural competence with the families they support. The content from this presentation will soon be available in a new chapter for ACT's Manual for B.C. titled Guide to Working with South Asian Families Affected by Autism. Preetinder is a founding member of ACT's South Asian Autism Project (ASAAP), a dedicated group of volunteers committed to raising awareness of autism in B.C.'s South Asian community.
Bilingualism and Language Development in Children with Autism – Dr. Pat Mirenda's important presentation analyzed the research on whether the families of children with autism should continue to be discouraged from speaking their language of origin at home. Her conclusion was definitive – there is no reason to discourage families speaking multiple languages at home. Indeed to do so has many negative consequences including cutting off children with autism from their extended families and cultural and religious traditions. Download Dr. Mirenda's handout for references to this research.
Memorable quotes
"Families experiences are likely to be different than those from the dominant culture and for those whose language is not the English language." (Sunita Braich, Supporting Marginalized Families from the Trenches – the Perspective of Parent Professionals)
"Always say yes to tea" – speaking to the need to be polite and culturally sensitive. (Preetinder Narang, Connecting with South Asian Families of Children with Autism)
"Keep in mind the historical trauma that First Nations people, families and communities have gone through with colonization and residential schools." (Rona Sterling-Collins, An Aboriginal Perspective on Supporting Children and Families with Special Needs)
"You know what I'm going to say, right? No significant difference" – with regards to language acquisition in bilingual homes. (Pat Mirenda, Bilingualism and Language Development in Children with Autism: One Language or Two?)
"Autism is not a 'thing', it is contextual and it is the intervention rather than the label that makes the difference" (comment on the poster board)
Seeking New Members for ACT's Board of Directors
ACT – Autism Community Training is the primary source for objective information and support on autism in B.C. A not-for-profit society led by a Board of Directors, ACT is seeking three new board members in time for our AGM on May 31st. This year we are keen to identify candidates who understand the diverse concerns of families raising children with autism from the perspective of parents, siblings or other members of the extended family, as well as having professional expertise.
ACT's Board is a governance board and does not involve itself in daily operations. Board members are called upon to provide the board with professional advice. Currently we would like to augment the considerable strength of ACT's Board in the areas of human resources, media relations, marketing and fundraising.
For more information on ACT's current Board see www.actcommunity.ca/about-us/board-members/. Those interested in finding out more, may contact the head of ACT's Nominations Committee, Helga Marshall, c/o dpugh@actcommunity.ca.
The deadline for submitting a resume and cover letter to dpugh@actcommunity.ca is May 9, 2016.
Submit Summer Camp info to the Autism Information Database


Parents are thinking about summer camps already, and contacting ACT for suggestions. ACT's Autism Information Database (AID) has a list of B.C. summer camps. If you are a service provider or camp director, please:
If you are looking for Behavior Interventionists to attend camp with your child, the Autism Information Database (AID) has several listings that may help:
Four New RASP Professionals – Fraser Valley, Terrace and Vancouver


Over the 12 months of 2015, 93 RASP professionals were approved, and 13 Behavior Consultants moved from category B to category A. This April, traditionally a slower month, four new RASP professionals have been added to the RASP.
Behavior Consultants (Category A – Non-supervised)
Carla Kirk – Serves: Abbotsford, Agassiz, Chilliwack, Hope, Langley, Maple Ridge, Mission, Pitt Meadows, Surrey
Speech-Language Pathologists
Kaali Kelso – Serves: Kitimat, Terrace
Occupational Therapists
Nushabah Zakir – Serves: Abbotsford, Chilliwack, Coquitlam, Delta, Maple Ridge, Richmond, Surrey, Tsawwassen, West Vancouver
Physical Therapist
Megan Mak – Serves: Burnaby, Coquitlam, North Vancouver, Vancouver
Information on RASP requirements:
For more about individual RASP Professionals, their credentials, certifications and degrees, search and view RASP Professionals online: www.actcommunity.ca/rasp/search/
Upcoming ACT Events in Vancouver, Surrey and Richmond


ACT is bringing back popular speakers and courses this summer, including Intro to ASD (POPARD) with Dr. Kenneth Cole, in Vancouver and in Surrey; a Master Class in Social Thinking with Michelle Garcia Winner and Pamela Crooke and specialized instruction in Executive Function Skills with Sarah Ward.
July 11 – 15, 2016 – Vancouver, B.C. Kenneth Cole, PhD, RPsych

"Amazing and useful information. I wish our whole staff could attend!!"

"Ken was excellent in presenting the information in a very natural, straight- forward way. He was always available to answer questions- offer suggestions and re-explain a concept."

August 4 & 5, 2016 – Vancouver, B.C. Michelle Garcia Winner, MA, CCC-SLP & Pamela Crooke, PhD, CCC-SLP

"You two have an amazing ability to engage listeners."

"Thank you for your passion, compassion and commitment to supporting people with Social Thinking challenges."

August 15 – 19, 2016 – Surrey, B.C. Kenneth Cole, PhD, RPsych

"The biggest thing I learned was dealing with behaviours. I was struggling with this as a SEA and now I definitely have some very valuable tools that I can use."

Sept. 15 & 16, 2016 – Richmond, B.C. Sarah Ward, MS, CCC-SLP, Co-Director, Cognitive Connections LLP

· "Thank you so much, it was an absolute pleasure hearing you speak and learning such valuable skills to teach.""I learned many practical strategies. I will definitely be implementing the "Get Ready, Do, Done" model and the clock!"
Community Events
Training from Canucks Autism Network
The Canucks Autism Network (CAN) provides autism training workshops throughout the year to build capacity in communities across British Columbia. Training equips community recreation staff, programmers, and managers with strategies for supporting children and youth with autism in community settings. Learn more about upcoming workshops in your community.
Autism Speaks Walks – Vancouver, Kitimat, Courtenay and Prince Rupert
Autism Speaks Canada Walk & Family Festival is open now for registration: www.autismspeaks.ca/get-involved/participate/walk-now-for-autism-speaks-canada/
BCaBA training at Capilano University
Capilano University has seats in both the Bachelor of Arts and Post-Baccalaureate Diploma in Applied Behaviour Analysis – Autism programs. Graduates meet the requirements to become Board Certified Assistant Behaviour Analysts (BCaBA). For more information, and to inquire about on-line study, please email Dr. Richard Stock at rstock@capilanou.ca
Autism in the News
[addtoany]