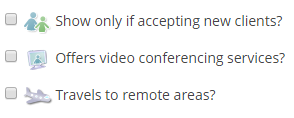 In September, ACT contacted all RASP professionals with a reminder that we can update availability online very quickly. We are hoping that if professionals can keep their listing up-to-date, they can save time by not having to respond to families they can't serve. Parents often express to ACT Information Officers that they really appreciate not having to contact professionals who are not available.
If you are a professional on the RASP, you can review your record here. It is simple to update your listing online or you can contact Jeff Hoffman, RASP Administrative Assistant, at raspadmin@actcommunity.ca or call 604-205-5467.
Parents can also contact Jeff Hoffman if they are not receiving a response from a RASP professional; ACT is happy to check whether the contact information is still current. Emailraspadmin@actcommunity.ca.