Donate to Secure the Future of ACT's Free Online Training in 2017

ACT has been receiving many questions about our future, now that we will no longer be funded to provide individualized parent support and manage the Registry of Autism Service Providers. We will keep you informed when the Ministry of Children and Family Development has details to share with the autism community about the delivery of these services post June 30, 2017. In the meantime, please be assured that ACT will continue to provide our excellent live events in 2017 and that we are working hard to find alternative sources of funding and sponsorship so that our website will remain a rich source of evidence-based information and training for parents and community professionals across Canada.
Much of ACT's training has been independent of government funding, supported by registration fees and sponsorship, benefiting from the skills of our volunteers and the generosity of our donors. However, there are challenges ahead. The most challenging resource to maintain is Autism Videos @ ACT (AVA), our very special free online resource for families and professionals, especially as, starting July 2017, ACT will no longer benefit from sharing overhead costs with other services provided under contract to MCFD.
As this change in government policy was unexpected, we are urgently seeking funding to maintain the 20 presentations available for free on AVA, as well as preparing and uploading presentations recorded in 2016. AVA is a unique resource internationally because of the breadth of the content and the quality of production values. Nothing quite like AVA, with its focus on providing families and community professionals with positive, practical, comprehensive and evidence-based information on many facets of living and working with children and adults with ASD, exists elsewhere.
In 2017, as ACT goes through this challenging transition, we are asking B.C.'s autism community to contribute to the development and distribution of world-class training for community professionals and families across the province.
How to Donate
Online via CanadaHelps or Chimp.net
By cheque (send to office, made out to ACT – Autism Community Training)
Via the United Way (search for ACT- Autism Community Training Society, Burnaby)
Visit our Donations Page for information and ways to donate.
As a federally registered not-for-profit society, ACT can provide tax receipts for donations over $10. ACT's Charitable Tax Number is #861691236RR0001.
Thank you to our donors and sponsors in 2016: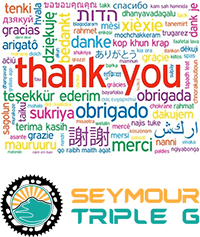 Thank you to everyone who has sponsored or donated to the Seymour Triple G fundraiser. We have listed these donors on the Seymour Triple G website; click on 'Individual Donors' to see the complete list of donors.
ACT's Accomplishments in 2016
ACT is refocusing in 2017 on building our information and training resources as a national resource for families and individuals with autism and special needs. In the meantime, we would like to share with you ACT's accomplishments over 2016, achieved with the support of a large circle of professional and parental volunteers, donors and sponsors, who have enabled ACT to provide a cost-effective, comprehensive service admired across Canada.
Parent Information and Support in 2016
Over 1000 families, professionals and self-advocates contacted ACT one or more times for information and support from across B.C. by telephone and email at our office in 2016 – a 7.5% increase over 2015; questions posed by parents are often complex and wide-ranging: from school exclusion, diagnosis across the lifespan, finding a mental health provider to the criminal justice system. (ACT staff answered an additional 400 questions at over 20 community events).
12% of information calls related to adult issues. While ACT has not been funded to provide adult services, we have done our best to answer questions both from families and from adults with ASD.
Most calls related to some aspect of the autism funding process, ranging from requests for help in accessing MCFD forms, to support in understanding eligible expenses.
On average, an ACT Information Officer spent 43 minutes helping each family on a "case" inquiry; 3% of cases take over two hours, sometimes involving a number of calls and emails over months.


Who Contacted ACT in 2016?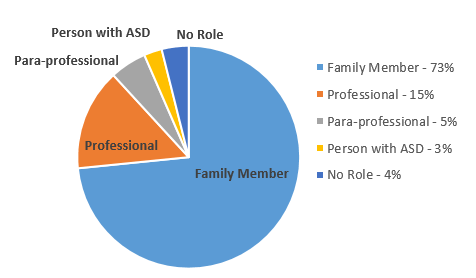 The RASP in 2016:
ACT added 99 new professionals to the RASP in 2016 – a net increase of 47 as others moved or retired. As of December 31st, there were 658 professionals on the RASP, eligible to serve children under 6 using the Autism Funding Program.
There was a 9% increase in RASP searches on ACT's website in 2016 over the previous year; nearly 14% of searches on the ACT website begin at the RASP Search page. The RASP search tool allows families to search by postal code, language spoken by the professional, availability and whether the professional is prepared to travel.
ACT worked closely with the College of Psychologists of B.C. in 2016 to support Behavior Analysts joining the CPBC (69% of RASP Behavior Consultants on the RASP are Behavior Analysts). MCFD and ACT support this initiative because professional colleges provide protection to families. Speech Pathologists, Occupational Therapists and Physical Therapists must all be members of their professional colleges to practice in B.C. and be included on the RASP. It is hoped that the Ministry of Health will implement the necessary legislative changes in 2017.
Also in 2016, ACT worked closely with the College of Occupational Therapists and the Canadian Association of Occupational Therapists and the RASP Advisory Panel to develop a supervised category for Occupational Therapist on the RASP. This already exists for Speech Language Pathologists. MCFD, with ACT's support, will implement the process.
ACT's Online Information & Training Initiatives
On average, ACT's website receives over 2,000 visitors a week; over 100,000 visits were made in 2016 from 60,000 unique visitors to actcommunity.ca
There was a 34% increase in page views for the Autism Information Database (AID) in 2016. 225 new resources were added. The AID now contains links to over 1,200 internationally sourced information resources (link) and over 1000 community resources (link) across B.C.
Six new online videos, including two in Punjabi, were added to Autism Videos @ ACT in 2016, in response to the need for training by families and professionals across B.C. who cannot attend our live events. ACT now has over 20 free videos available. The most recent ones include:
The Online Mental Health and Autism Project (OMHAP) provided two free webcasts each of which reached over 200 professionals across B.C. According to our project collaborators at UBC's Department of Continuing Professional Development (Faculty of Medicine), this was the highest response to any webinar they have ever done! We believe this reflects the hunger of community professionals to have more information to help their clients with ASD.
The two webinars are now available here, free, thanks to our sponsors, donors and presenters: www.actcommunity.ca/education/mentalhealth/
ACT Live Training 2003-2016
While ACT cut back on the number of live events we did in 2016 (in order to finish special projects and prepare the proposals in response to MCFD's Request), we provided eight excellent training events which attracted 1,360 participants from across B.C. and beyond, providing 13,000 hours of training. ACT provided $27,000 in bursaries in 2016, in the form of reduced registration fees, to increase accessibility for parents and professionals living outside of Metro Vancouver and/or living on reduced incomes. Our thanks to Odin Books for continuing to support our bursary fund.

Special Needs Community Events
In 2016 ACT improved our ability to promote community events being held by other groups supporting the special needs community, with a new calendar that provides easier posting and browsing. See www.actcommunity.ca/special-needs-community-events/ to post your event.
Upcoming Live Events

Jan. 14, 2017 – Evaluating Intervention Programs and Peer Mediated Pivotal Response Treatment
Presented by Isabel Smith, PhD and Ainsley Boudreau, PhD
Early Bird Deadline – January 4th, 2017. Details
Save the Date – details coming soon
ACT's 13th Annual Focus on Research – Focus on Mental Health in Autism
Multiple Speakers
April 28 & 29, 2017 – Vancouver
Executive Functioning Conference
Sarah Ward, MS, CCC-SLP
August 10 & 11, 2017 – Sidney
Integrating ABA Methods in Schools: Supporting School Aged Children
Richard Stock, PhD, BCBA-D
August 24 & 25, 2017 – Vancouver
Picturing Success: Visual Support Strategies for Individuals with ASD
Brenda Fossett, PhD, BCBA-D
October 20 & 21, 2017 – Vancouver
RASP Updates


Six RASP professionals have been added or had their status updated since November 30th. As of December 31, 2016, there are 658 professionals on the Registry for Autism Service Providers: www.actcommunity.ca/rasp/search/.
Behavior Consultants (Category A – Non-Supervised)
Karina Frisque – Kelowna, West Kelowna
Maria Turner – Burnaby, Coquitlam, New Westminster, Port Moody, Sunshine Coast, Surrey, Vancouver
Behavior Consultants (Category B – Supervised)
Sarira Ronaghi – Burnaby, North Vancouver, Vancouver, West Vancouver
Speech-Language Pathologists (Non-Supervised)
Sarah Lau – Burnaby, New Westminster, North Vancouver, Richmond, Vancouver
James Donovan – Victoria
Occupational Therapists
Noelle Alava – Abbotsford, Burnaby, Chilliwack, Delta, Maple Ridge, North Vancouver, Richmond, Surrey, Vancouver, West Vancouver
Professionals no longer listed on the RASP
RASP service providers may leave the RASP due to retirement or moving to a different job or province. Between November 30th and December 31, 2016, Heather Dorn, Susan Edwards, Christine Gleave, Megan Kern, Julie Leswal, Erika Manarin, Janet Ross, Yvette Thomson and Nagwa Yacoub were removed from the RASP.
RASP providers are urged to keep their contact information up to date either online or by contacting the ACT office. If you are a parent who is not receiving a response from a RASP Professional, please update ACT.
ACT updates the RASP list weekly. See who is new in your community at www.actcommunity.ca/rasp/search/.
More Information on the RASP for Families: www.actcommunity.ca/rasp/information-for-families/
Post Your Special Needs Community Event
See what is happening across B.C. and post your community/training event for the special needs community at www.actcommunity.ca/special-needs-community-events/. Here are some interesting upcoming events:
PEERS: Social Skills Group for Teens with ASD – Vancouver
Room in your Heart & Home to be a Foster Parent?
MCFD's Vancouver/Richmond Recruitment team is looking for new foster parents to provide occasional respite care for children and youth with special needs. They offer competitive rates for caregivers with skills and experience, as well as one to one support and coaching. Successful applicants go through a home study process which includes family interviews, references, medical and criminal checks.
Interested applicants can find out more information at www.Fosteringconnections.ca. To register for an information session call 604 -775-2169.
National Autism Initiatives
The Canadian Autism Leadership Summit will be held in Ottawa on April 4 and 5th, 2017.
For more information or to register see www.casda.ca/#leadershipsummit
The Canadian Autism Partnership Project is actively promoting a new national vision for autism. For more information see: www.capproject.ca/
Participate in International Research & Build Knowledge!
Are you interested in participating in autism research? Some of the latest projects underway in Canada and internationally are posted on ACT's website: www.actcommunity.ca/information/research/participate-research/.
Are you a researcher interested in attracting the 8,000 plus subscribers to ACT's resources? Post your project here
How Do People with ASD Understand Language?
Research is currently underway at the BC Children's Hospital Research Institute (BCHRI) to understand how individuals with ASD process language. The study, led by Dr. Anthony Bailey and Dr. Keith McLarren, is conducted with the support of UBC. The study uses MRI and EEG scans to take pictures of your brain activity as you read sentences. If you are 14 to 40 years old, live in B.C. and have an ASD diagnosis, you are invited to participate in our study. We are especially interested in people who were late talkers. You must speak English as your first language and be able to read at a grade 5 level or above to be eligible for the study. Those who have epilepsy should not volunteer for this study.
For more information and to sign up, please contact Dr. Keith McLarren at keith.mclarren@ubc.ca or 604-822-4100.
For more details see: Brochure or Study Information
Invitation to Professionals to Participate in Research
Researchers at Dalhousie and McGill Universities are seeking service providers to participate in a project about current practices in the field of neurodisability and emotional dysregulation. Service providers who are knowledgeable about children with neurodisabilities and the emotional and behavioural challenges they face are invited to participate in a telephone or Skype interview. You will be asked about services offered at your site, key approaches you recommend to children and families, how referrals are made and to whom. You will also be asked to comment on a parent coaching intervention being developed specifically for this population. For more information email sacha.bailey@mail.mcgill.ca
Autism in the News: Adults and Employment